PBS NewsHour features Barrett, SynTouch, UCLA, and Case Western driving prosthetic arm/hand research
February 18, 2015

NEWTON, MA, USA and LOS ANGELES, CA, USA
Barrett Technology has pioneered core technology underlying new levels of flexibility in articulated arms and hands. Barrett is the leader in advanced robotic manipulators, and its technology is featured by PBS's Miles O'Brien -- a reporter and amputee. O'Brien introduces this PBS NewsHour segment on advanced prosthetic hands by telling us "A hand without a sense of touch isn't really a hand at all". It's something that amputees and prosthetic hand researchers have been acutely aware of for a long time, but creating dexterous robotic hands with a sense of touch isn't trivial.
UCLA's Veronica Santos, PhD, is performing key research to advance prosthetic hands and arms and make them feel like your native limb. Santos is constructing a language of touch that a computer and a human can both understand by using SynTouch's BioTac sensors to explore objects of varied shapes, sizes and textures, and using BarrettHands on a pair of force-controlled WAM arms from Barrett Technology to control these explorations. The BioTac is the most human-like tactile sensor in the world, and the BarrettHand and WAM arm have long been the platform of choice for robotics researchers.
Video of bimanual operation using touch and proprioception starts at 5:00 minutes.
Santos uses these advanced robotic technologies to enable her prosthetic-hand research, but technology isn't the ultimate objective. Santos envisions prosthetic arms and hands which amputees use seamlessly. Her ideal outcome is that "All of the robotics, algorithms, and intelligence that we have built in at the very low level acts just like your spinal cord. You don't even know they're there." Seamlessly integrating this advanced technology into prosthetic limbs is an incredible challenge.
Meanwhile, Case Western Reserve University researcher Dustin Tyler, PhD is also working on technology to advance prosthetic hands. His research focuses on the seamless transmission of sensory data to amputees. By implanting electrodes that encircle nerves, data from sensors on prosthetic hands can be transmitted to the brain. Combining advanced tactile sensors and seamless transmission of sensory data won't give amputees their hands back, but "it will make you forget you don't have your hand" says Tyler. SynTouch is working with Dr. Tyler's group to provide custom NumaTac sensors to be used in his research.
About Barrett Technology, Inc.
Barrett is the technology leader in high-performance robotic arms and hands for emerging applications requiring superior versatility. Barrett has pioneered advanced motor controls, for example its Puck, to enable the best force-controlled performance available; and its gearless transmissions are in a league of their own. Finally, Barrett's control architecture is totally open source to allow for maximum user flexibility.
About SynTouch
SynTouch LLC developed and makes the only sensor technology in the world that endows robots with the ability to replicate - and sometimes exceed - the human sense of touch. Its lead product - the BioTac - mimics the physical properties and sensory capabilities of the human fingertip. Founded in 2008 and headquartered in Los Angeles, SynTouch provides Machine Touch- complete tactile sensing solutions for industrial, medical, and military applications.
Featured Product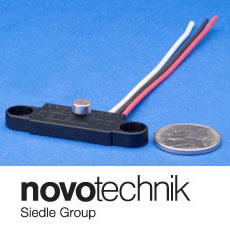 Vert-X 05E Series of dual angle/speed sensors. The series features easy mounting in small and narrow spaces with a 5 mm body depth and mounting flanges with metal inserts. The sensors make measurements only 6 mm from edge of product for close-to-wall measurement applications. Vert-X 05E Series sensors measure angles from 0 to 360°, rotational speed and direction with repeatability to 0.1°.