Intelitek to Offer the CytonE Humanoid Robot for the Classroom
CAMBRIDGE, Mass., Feb. 24, 2015 - Robai and Intelitek have launched a new line of humanoid robots—the CytonE family—for education. The size of a human arm and weighing under five pounds, each CytonE arm has seven independent axes of motion plus a gripper.

The CytonE's brains come from powerful software licensed from Energid Technologies called Actin™. Actin was originally developed for NASA and is used in industrial applications including robotic oil drilling and nuclear inspection. Actin allows the arms to be easily programmed, with motion reminiscent of human arm movement in its fluidity, efficiency, and power.
Intelitek will provide a comprehensive STEM curriculum around the CytonE robots as part of this worldwide launch. "We're confident the CytonE robots will teach students STEM skills and inspire them to be engineers and scientists," said Ido Yerushalmi, CEO of Intelitek. "Technology like the CytonE inspires creativity and imagination and accelerates learning."
"The agreement with Intelitek is important for Robai as it moves us toward our goal of making robots available to everyone," said David Askey, Chief Business Development Officer at Robai. "We look forward to having bright students contribute to the Cyton/Actin ecosystem through their creativity and ingenuity."
"Whether automating complex assembly lines, enabling robots in space, or powering lightweight robots for STEM education, we are pleased to see Actin evolve as a general purpose operating system for the next generation of robotics," said Neil Tardella, CEO of Energid.
About Robai
Robai builds and markets the Cyton® line of humanoid robot arms and hands. These systems take advanced robotics from research into industry. Robai's Cyton Gamma is the latest offering from the company.
About Energid Technologies
Energid Technologies develops advanced software and robotic systems for the aerospace, agriculture, manufacturing, transportation, defense, and medical industries. Energid's Actin™ software is a powerful control framework and operating system for commercial, industrial, and mission critical robots that is sold as a cross platform application and extensible software toolkit. Energid specializes in the sensing, control, and simulation of complex systems.
About Intelitek
Intelitek transforms education across the globe through comprehensive technology learning solutions. Our innovative tools and technologies empower instructors and inspire students to improve the world around them. We understand the changing needs of your career and technology classrooms and design flexible solutions that meet those needs within the framework of any budget. Our sustainable support and professional development ensure the continued success of your programs. By helping to deliver the competencies needed for in-demand careers, we are producing results for students, teachers, nations and economies.
Featured Product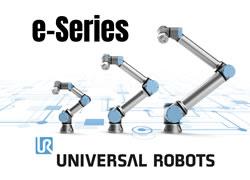 With the new e-Series cobot line, Universal Robots raises the bar for cobots, adding unique new features while significantly strengthening the four core principles defining collaborative robots: fast set-up, easy programming, flexible deployment, and safe operation. With a new built-in, tool-centric Force/Torque sensor the e-Series is ready to take on applications requiring force control right out of the box. A repeatability of 30 micron means the new cobots are suitable for very precise finishing, assembly and electronics tasks. A re-designed user interface decreases cognitive load and expedites program development, while a new externally accessible, 500Hz system bus enables more complex motion control algorithms or profiles.