Stahlin Non-Metallic Enclosures continues to provide financial support for the Belding High School robotics program. Recently, students from both Belding High School and Belding Middle School competed in the Belding Robotics Tournament in the Redskin Arena at the high school.
Last year, the Belding High School robotics team finished in the top 40 of 200 teams that competed in the VEX Robotics World Competition in Anaheim, CA. The hard work and success continues this year, with all three of the high school team's robots qualified to compete in the State VEX Robotics Tournament at Michigan State University. For more information on the program visit: www.vexrobotics.com

Stahlin Non-Metallic Enclosures has been selected by the Michigan Business & Professional Association as one of the "101 Best and Brightest Places" to work in West Michigan for eleven years in a row.
For more information on Stahlin Non-Metallic Enclosures: www.stahlin.com
Featured Product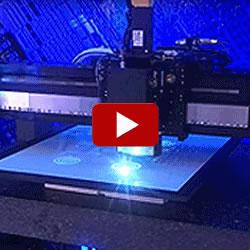 Hexapod micro-motion robots are based on very flexible concept that can easily solve complex motion and alignment problems in fields including Optics, Photonics, Precision Automation, Automotive, and Medical Engineering.