Bimbas Breakthrough Pneumatics Product Also Recognized for Innovation by Two Other Major Industry Organizations
UNIVERSITY PARK, Ill.--Bimba Manufacturing, an industry leading innovator of actuation technology, today announced that IntelliSense, a one-of-its-kind technology platform that enables users to be proactive about maintenance and system optimization, has been named Plant Engineering Magazines Product of the Year for 2014, and winner of the Golden Mousetrap Award 2015 from Design News Magazine. In addition, IntelliSense was named winner of Design World Magazines Leadership in Engineering 2014 Award.

The Plant Engineering 2014 Product of the Year program honors new ideas that help manufacturers improve their operations, better measure and manage their resources, and keep plant operations running at peak efficiency. IntelliSense won in the Maintenance Software category, receiving votes from Plant Engineering subscribers who have the buy/specify authority in their plant.
UBM Canon and Design News selected IntelliSense as a winner of the 2015 Golden Mousetrap Award, which celebrates the companies, products and people who are energizing design, engineering and manufacturing. IntelliSense was cited for excellence in the category Automation & Control: Sensors/Vision Systems/Feedback Devices and Peripherals.
Design World selected IntelliSense as the winner of its 2014 Leadership in Engineering Award in the Fluid Power category. This industry recognition program acknowledges engineering leadership across several disciplines. More than 9,400 votes were tallied across all categories.
"We are proud and grateful to have been chosen by three such influential and respected publications for our introduction of IntelliSense," said Tom Wood, Director of Marketing & Product Development at Bimba. "The awards are universally recognized for their significance and Bimba is thrilled to receive these honors, particularly in light of the intense pressure manufacturers and OEMs face to meet their production targets and keep processes in control."
IntelliSense was also one of the few products selected for a presentation on the Innovation Stage during PackExpo where a discussion followed on the role smart technology can play increasing plant efficiency and improving uptime.
Finally, IntelliSense participated in TechBriefs "Create the Future" Design Contest 2014 in which a panel of judges placed it among the top 100 entries in the category Machinery Automation Robotics, which covers products that speed, improve and/or automate work, manufacturing, and R&D.
IntelliSense deploys a remote monitoring device connected to sensors attached to Bimba cylinders using pneumatic fittings. The sensors can be easily installed in minutes, allowing the machine to be put back into service quickly. In addition IntelliSense requires no programming; once operating limits are set IntelliSense delivers operational insights about cylinder condition, cycle time, pressure, and temperatures. Furthermore, IntelliSense delivers predictive intelligence for pneumatics in the form of up to date condition information that predicts when a cylinder will fail. IntelliSense can also identify when a component is achieving its desired performance specification. Ultimately, this machine-to-machine technology enables users from a wide range of industries to move from repair to proactive maintenance, thus optimizing production as a whole.
About Bimba
Bimba Manufacturing is a forward-thinking innovator of actuation technology, specializing in providing cutting-edge solutions to engineering challenges. Including its brands, TRD, Mead, MFD, Pheumadyne and Acro, Bimba markets an extensive line of industry-leading products including pneumatic, hydraulic, and electric actuators; valves; fittings; air preparation and a variety of safety and production solutions. In addition to its broad line of standard catalog products, the companys business develops many custom and semi-custom products designed for specific customers and applications. These products, used in machinery and automation, are sold to original equipment manufacturers and end-users throughout the world in an expanding variety of industries. For more information, visit bimba.com.
Featured Product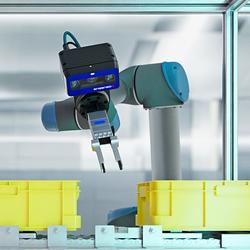 Combining the ease of use of a webcam with the performance and reliability of an industrial camera? The uEye XC autofocus camera from IDS Imaging Development Systems proves that this is possible. Its high-resolution imaging, simple setup and adaptability make it an invaluable tool for improving quality control and streamlining workflows in industrial settings - especially for cases where users would normally employ a webcam. The uEye XC autofocus camera features a 13 MP onsemi sensor and supports two different protocols: USB3 Vision, which enables programmability and customization, and UVC (USB Video Class). The UVC functionality enables a single cable connection for easy setup and commissioning, while delivering high-resolution images and video. This makes the uEye XC camera an ideal option for applications that require quick setup and need to manage variable object distances. Additional features such as digital zoom, automatic white balance and color correction ensure precise detail capture, which is essential for quality control.