Control system integrator assists Food Manufacturer in meeting safety and quality goals with the engineering, design, and implementation of an advanced automated temperature monitoring and control system.
Austin, TX February 27, 2015

Patti Engineering, Inc., a leader in control systems integration, today announced details of a project it completed for Hill Country Bakery that involved implementing a state-of-the-art temperature monitoring and control system. The project resulted in improved food quality and safety assurance with automated real-time data collection, central database for report generation, and the ability to monitor and receive alarm notifications via mobile devices.
Production processes and monitoring is a major part of ensuring product quality at Hill Country Bakery. The companys longstanding history of producing the highest quality baked goods has earned the company its Safe Quality Food (SQF) Level 2 Certification. Hill Country Bakerys 55,000 square foot cold storage distribution center located in San Antonio, Texas stores ingredients and finished goods. Temperatures need to be monitored and kept within a narrow range to ensure product quality and safety.
Hill Country Bakery was not satisfied with its aging temperature monitoring system. The continual degradation of the old monitoring system caused gaps in collecting data with no tracking of corrective actions in the event a temperature issue was found.
Patti Engineering was hired by the bakery to assist with engineering, design and implementation of a more advanced and automated temperature monitoring system. Using wireless temperature sensors and developing a central control and monitoring system were paramount to meet Hill Country Bakerys goals. Patti Engineering developed an application using InduSofts Web Studio software platform that monitors the temperature zones, sends alarms via email, can be monitored via mobile devices, and can produce reports on demand for a specified periods of time. For more information and technical details on the project, read Patti Engineerings detailed case study published in February/March issue of Food Quality & Safety Magazine: http://www.foodquality.com/details/article/7470411/Keep_Your_Cool.html.
"We approached Patti Engineering with our desires for a reliable system, as well as, a system to resolve some of the issues we had seen with the antiquated system. Their solution was a cost effective, reliable, wireless solution that would address all of our needs and satisfy the requirements for SQF," explained Nick Rendon, Maintenance Manager for Hill Country Bakery. "They worked expeditiously to successfully deliver our system in time for audit. Due to their great prompt delivery of a solution, ingenuity and reliable service, I will continue to call on Patti Engineering when a need arises."
Many suppliers, retailers and processors are looking to modernize and automate temperature monitoring and data collection programs to meet Food Safety Modernization Act (FSMA) regulations. Beyond FSMA, companies pursuing Safe Quality Food (SQF) Certification are required to establish a Hazardous Analysis and Critical Control Points (HACCP) food safety plan which is benchmarked by the Global Food Safety Initiative (GFSI). Patti Engineering, a certified member of the Control System Integrators Association (CSIA), has the experience and expertise to help companies in the food industry meet critical monitoring and control requirements.
About Patti Engineering, Inc.
Patti Engineering, Inc. is a CSIA Certified control systems integration company offering high-caliber engineering and software development services. Patti Engineerings technical expertise in electrical control and information systems provides turnkey control systems integration for design/build, upgrade/retrofit and asset/energy management projects. Industrial automation, production intelligence and shop floor IT solutions services include: project management, electrical engineering, hardware design, hardware procurement, software development, installation, calibration, start-up testing, verification, documentation, training and warranty support. Customer satisfaction and project success earned the company placement in the Control Engineering Magazines Hall of Fame. For more information, visit http://www.pattieng.com.
Featured Product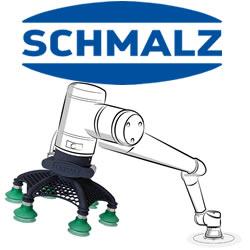 In order to interact with their environment and perform the tasks, lightweight robots, like all industrial robots, depend on tools - and in many cases these are vacuum grippers. These form the interface to the workpiece and are therefore a decisive part of the overall system. With their help, the robots can pick up, move, position, process, sort, stack and deposit a wide variety of goods and components. Vacuum gripping systems allow particularly gentle handling of workpieces, a compact and space-saving system design and gripping from above. Precisely because the object does not have to be gripped, the vacuum suction cupenables gapless positioning next to each other.