New product family starts with two VME SBCs using Intel and PowerPC
Chatsworth, Calif. March 2015 - After 30 years serving the military computing market, Aitech Defense Systems Inc. is bringing its expertise in rugged, high performance embedded boards and systems to the industrial market. The new industrial line-up includes two 6U VME SBCs, one based on the Intel Haswell processor and one that is Freescale QorIQ-based.

Doug Patterson, VP, Military & Aerospace Business Sector for Aitech, noted, "When planning this expansion, we made a conscious decision to focus on our more popular VME SBCs. With major suppliers providing less support, and with EOL announcements increasing for this platform, Aitech is positioned to offer VME products for up to 12 years, through our obsolescence management program."
Aitechs new rugged, industrial SBCs offer a wide range of memory storage options and I/O, making them ideal for a variety of embedded commercial, industrial and Naval applications. Operating temperature for the boards is up to -20°C to +60°C.
The Ai-VM163S, with an Intel 4th gen Core i7 quad core processor running at 2.4 GHz, is a high-performance board with 32 GB of onboard SATA flash to efficiently process video and graphics.
Geared more for real-time control system applications, the Ai-VM111S incorporates Freescales newest QorlQ T4 quad core, dual-threaded, Altivec-enabled T4080 processer with a speed of up to 1.5 GHz. It includes 128 MB of NOR Flash for mass data and code storage operations.
For higher reliability, the two boards each provide ECC-protected SDRAM memory and come with two standard mezzanine slots, one PMC and one XMC. The addition of these two mezzanine sites offers added design flexibility as well as onboard resources to ensure reliable, real-time operation. To support real-time process control, the boards also include eight counter/timers, a multi-function watchdog timer, temperature sensors and a real-time clock with on-board power back-up.
Supported software for both includes VxWorks and Linux, with the Ai-VM163S supporting Windows and the Ai-VM111S supporting INTEGRITY, as well. The 6U VME SBCs are air-cooled per IEEE 1101.10-1996.
Industrial customers can expect the same high-quality products that Aitech continues to provide to the military and aerospace markets. The only difference is that these products have been adapted to fit less rigorous, air-cooled environments, offering those customers with lower pricing advantages.
Ai-VM163S Key Technical Features:
* Intel 4th gen Core i7: I7-4700EQ (Haswell) @ 2.4 GHz
* 8 GB DDR3L with ECC
* 32 GB On-board SATA Flash disk
Ai-VM111S Key Technical Features:
* Freescale QorlQ SoC: T4080 @ 1.5 GHz
* 4 GB DDR3L with ECC
* 128 MB NOR Flash
Additional rugged products will soon be added to Aitechs growing industrial offering to provide embedded designers with best-in-class, reliable computing systems.
For more information please call 888-Aitech-8 (888-248-3248), visit http://www.rugged.com/industrial-products or e-mail sales@rugged.com.
For high res download and full text:
http://www.simongroup.com/PressRoom/press-release.php?Job=AIT-A-1926
Read our news: http://feeds.feedburner.com/PressRoom-Aitech
Get our updates: https://www.linkedin.com/company/Aitech
Follow us: http://twitter.com/AitechDefense
Become a fan: https://www.facebook.com/AitechDefense
Featured Product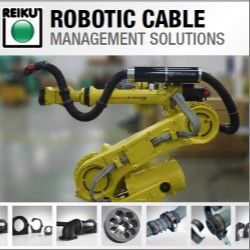 REIKU's Cable Saver™ Solution eliminates downtime, loss of revenue, expensive cable and hose replacement costs, maintenance labour costs. It's available in three sizes 36, 52 and 70 mm. All of the robots cables and hoses are protected when routed through the Cable Saver™ corrugated tubing. The Cable Saver™ uses a spring retraction system housed inside the Energy Tube™ to keep this service loop out of harms way in safe location at the rear of the Robot when not required. The Cable Saver™ is a COMPLETE solution for any make or model of robot. It installs quickly-on either side of the robot and has been tested to resist over 15 million repetitive cycles.