Kubit software is used in a large number of applications
LAKE MARY, Fla., March 3, 2015 -- FARO Technologies, Inc. (NASDAQ: FARO), the world's most trusted source for 3D measurement, imaging, and realization technology, announces the acquisition of kubit GmbH, a global leader in the development of software for surveying and as-built documentation. The acquisition also includes substantially all of the assets of its U.S. distributor kubit USA, Inc.

Located in Dresden, Germany, kubit has been developing field-proven software products to enable and simplify the use of real world objects in CAD applications since 1999. Initially launched to link total stations directly to AutoCAD, today kubit is the industry leader in providing tools to integrate 3D laser scan data with CAD environments such as Autodesk Revit and AutoCAD. kubit's software is hardware independent, giving customers the flexibility to utilize any hardware offering, thus ensuring maximum productivity.
kubit software is used in a large number of applications, including but not limited to:
* Building Information Modeling (BIM)
* Archaeology
* Architecture
* Plant survey
* Construction
* Built heritage conservation
* Facility management
* Interior outfitting
* Police and security forces
* Surveying
"The acquisition of kubit is an exciting step in FARO's strategy to develop integrated, disruptive 3D documentation product offerings for the Architecture, Engineering and Construction market," stated Jay Freeland, FARO's President and CEO. "By adding kubit's products to our portfolio, customers now have significantly enhanced software options to serve a vast array of point cloud modeling, analysis needs, and measurement capabilities with very high connectivity to the Autodesk suite of products."
The all cash transaction includes an initial payment as well as future earnout payments.
For more information about FARO's 3D scanning solutions visit: http://www.faro.com
Featured Product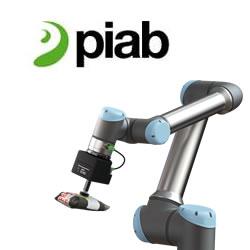 Piab's Kenos KCS gripper enables a collaborative robot to handle just about anything at any time. Combining Piab's proprietary air-driven COAX vacuum technology with an easily replaceable technical foam that molds itself around any surface or shape, the gripper can be used to safely grip, lift and handle any object. Standard interface (ISO) adapters enable the whole unit to be attached to any cobot type on the market with a body made in a lightweight 3D printed material. Approved by Universal Robots as a UR+ end effector.