RadiantInsights.com include new market research report on \"Vision Guided Robotics Market Size, Share, Trneds & Analysis Report up to 2015\" to its huge collection of research reports.
Vision Guided Robotics Market Market 2015 Report was a professional and depth research report on Global Vision Guided Robotics industry that you would know the world\'s major regional market conditions of Vision Guided Robotics industry, the main region including North American, Europe and Asia etc, and the main country including United States ,Germany ,Japan and China etc.

The report firstly introduced Vision Guided Robotics basic information including Vision Guided Robotics definition, classification, application and industry chain overview; Vision Guided Robotics industry policy and plan, Vision Guided Robotics product specification, manufacturing process, cost structure etc. Then we deeply analyzed the world\'s main region market conditions that including the product price, profit, capacity, production, capacity utilization, supply, demand and industry growth rate etc.
In the end, the report introduced Vision Guided Robotics new project SWOT analysis, investment feasibility analysis, and investment return analysis and Global Twin-screw Extruder industry.
In a word, it was a depth research report on Global Vision Guided Robotics industry. And thanks to the support and assistance from Vision Guided Robotics industry chain related technical experts and marketing experts during Research Team survey and interviews.
The report including six parts, the first part mainly introduced the product basic information; the second part mainly analyzed the Asia Vision Guided Robotics industry; the third part mainly analyzed the North American Vision Guided Robotics industry; the fourth part mainly analyzed the Europe Vision Guided Robotics industry; the fifth part mainly analyzed the market entry and investment feasibility; the sixth part was the report conclusion chapter.
Featured Product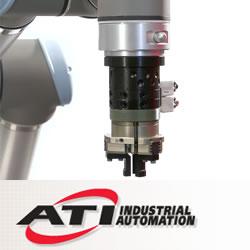 The ATI Robotic Tool Changer provides the flexibility to automatically change end-effectors or other peripheral tooling. These tool changers are designed to function reliably for millions of cycles at rated load while maintaining extremely high repeatability. For this reason, the ATI Tool Changer has become the number-one tool changer of choice around the world. ATI Tool Changer models cover a wide range of applications, from very small payloads to heavy payload applications requiring significantly large moment capacity.