Design World magazine participants select Lenze for mechatronics solutions
UXBRIDGE, MA - March 5, 2015 - Lenze, a leading global manufacturer of electrical and mechanical drives, motion control and automation technology, has been recognized by Design World magazine with a Leadership in Engineering award. The 2014 award recipients were chosen based on selections from Design World readers.

"We're proud to be recognized for our expertise in mechatronics - Lenze's mechatronic approach has resulted in machines and systems that allow our customers to address operational needs while being easier to integrate and maintain," said Deb Kling, director of commercial marketing, Lenze.
The term mechatronic refers to automation devices that combine mechanical, electrical and software technologies. By streamlining the design process, mechatronics translates to better designs with lower total cost of ownership, from implementation to commissioning to maintenance, eliminating traditional engineering silos to reduce inefficiencies.
Design World offers an annual Leadership in Engineering industry recognition program to acknowledge engineering leadership across several disciplines. Winners of the Leadership in Engineering award were selected by readers that voted for their favorite automation supplier in a variety of categories throughout January to October 2014.
To learn more about Lenze automation solutions please visit www.lenze.com.
About Lenze Americas
Lenze is a global manufacturer of electrical and mechanical drives, motion control and automation technology for Motion Centric Automation. Our products can be found in many industries, including automotive, packaging, material handling and logistics, robotics, and commercial equipment (pumps/fans). A global network of distributors and representatives makes Lenze Americas perfectly positioned to meet the motion control needs of customers worldwide. Lenze Americas, the American subsidiary of Lenze SE of Germany, is headquartered in Uxbridge, Massachusetts, with an assembly and logistics center in Glendale Heights, IL. Corporate global headquarters are in Hamelin, Germany. Lenze Americas can be found online at www.Lenze.com.
Featured Product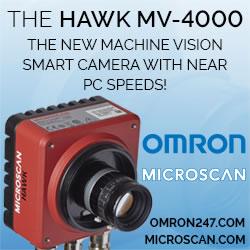 Awe-inspiring power and superior flexibility is sheathed within the contoured casing of the HAWK MV-4000. This smart camera builds upon the previous generation by quadrupling processing power and achieving real-time trigger response using an FPGA. Its state-of-the-art algorithms make it an excellent tool for any industry, whether the requirement be code reading, code verification, inspection, guidance, gauging or a combination of all four.