Cummins CEO Tom Linebarger to keynote as 100+ CEOs and senior executives learn the latest tactics in smart manufacturing
GREENWICH, Conn., March 6, 2015 -- Chief Executive magazine is pleased to announce that the 3rd annual Smart Manufacturing Summit will take place April 28-30 in Indianapolis. Cummins CEO Tom Linebarger and his executive team will share with attending CEOs and senior executives strategies for adjusting to the new realities of manufacturing. Participants will be taken on a tour of their advanced diesel engine plant to see how manufacturers can put their lessons into practice.

In addition to Cummins, other participants include leaders from Stanley Black & Decker, Eli Lilly Manufacturing, Pratt & Whitney, Rockwell Automation, Siemens, Autodesk, IBC Advanced Alloys, Cisco, Microsoft and PwC. All will lead discussions on how CEOs and other attendees can take advantage of new manufacturing opportunities and challenges.
The conference will focus on 6 key imperatives for manufacturing CEOs:
1) Implications of advances in additive printing tech and economics
2) Successfully recruiting scarce technical talent
3) Training, aligning and motivating the right people
4) The impact of advanced materials
5) Robotics and automation - recent advances and implications
6) The opportunities for manufacturers with "the Internet of Things"
Attendees also will have the opportunity to get inside the Indianapolis Motor Speedway (and take a lap around the track in a race car with a professional driver), have dinner in the Pagoda, receive a briefing with the Indiana Governor at his official residence and visit the Dallara Indy Car Factory.
For more information, visit:http://www.SmartManufacturingSummit.com
Featured Product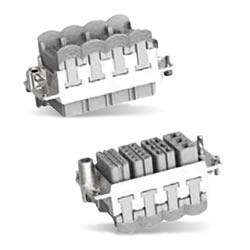 TE Connectivity's HDC Dynamic Module integrates the Dynamic series flexible signal and power solutions and the HDC Heavy Duty Connector series to form a solution of harsh environment connectors. TE's HDC Dynamic Module offers the top features of the two series. It uses the contact concept of the Dynamic series, with its proven performance in industrial uses and its cost effectiveness compared to legacy cutting contacts. The HDC connectors make the module a reliable solution for harsh environments. TE's HDC Dynamic Module supports 2A/32V to 40A/300V performance and 3 positions to 48 positions.