September 23-24, 2015 at the San Jose Convention Center in San Jose, CA
FRAMINGHAM, Mass., March 5, 2015 -- RoboBusiness is currently seeking qualified presenters for their conference program being held September 23-24, 2015 at the San Jose Convention Center in San Jose, CA.

Deadline: Friday, March 20, 2015
Submission: Visit RoboBusiness.com for submission guidelines and to access the speaker portal.
RoboBusiness, in its 11th year, is the leading business development event. Presented by Robotics Business Review, the 2015 RoboBusiness conference theme, Robotics under the Corporate Spotlight, examines robotics as a major business-driving technology in global markets and companies.
At RoboBusiness, speakers from around the world present contextualized market intelligence and offer actionable strategies to help companies leverage growth and technology development within the advanced robotics and intelligent systems industry.
The 2015 conference program will feature 2 packed days of programming consisting of:
4 Keynotes: Invaluable insights from today's world-renowned business and technology leaders
5 Industry Forums: A focused look at end user integration and opportunity-making in specific markets: Unmanned Systems, Manufacturing, Supply Chain Logistics, Healthcare, Consumer
11 Business Development sessions: How market and technology trends intersect with the growth of robotics and which practical strategies can be leveraged by companies
11 Technology sessions: Technically-oriented sessions designed to help engineers solve critical systems development challenges
RoboBusiness is attended by senior-level executives, division managers as well as senior engineering staff at end user and robotics technology companies.
If you wish to present at RoboBusiness, please visit our Call for Speakers portal to submit your outline and credentials. The RoboBusiness Advisory Council will review your submission and the Conference Team will notify you by mid-May regarding whether you were accepted.
For additional information or questions, please contact:
Allyson Yorks: ayorks@ehpub.com | 508-663-1500 x483
Featured Product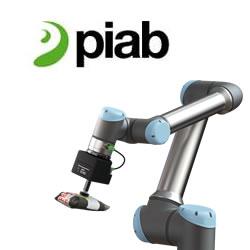 Piab's Kenos KCS gripper enables a collaborative robot to handle just about anything at any time. Combining Piab's proprietary air-driven COAX vacuum technology with an easily replaceable technical foam that molds itself around any surface or shape, the gripper can be used to safely grip, lift and handle any object. Standard interface (ISO) adapters enable the whole unit to be attached to any cobot type on the market with a body made in a lightweight 3D printed material. Approved by Universal Robots as a UR+ end effector.