Innovations, Advanced Manufacturing and Collaborative Business Models Are Helping Drive Manufacturing Industry Growth in Northeast and Nationwide
DEARBORN, Mich. March 06, 2015

With manufacturing a driving force of economic growth in the Northeast, as well as the United States, more than 12,000 business owners, engineers, designers, production managers and purchasing executives will gather May 12-14, 2015 at EASTEC, the East Coasts premier manufacturing event. Produced by SME, the biennial event takes place at the Eastern States Exposition in West Springfield, Mass. and features more than 650 exhibitors and three days of complimentary educational sessions.
In its 34th year, the event showcases the latest manufacturing technologies from additive manufacturing/3D printing to waterjet cutting, and provides access to industry experts sharing insights on how to foster innovation, increase productivity and improve profits. This year, attendees will also get to see over 300 new products being highlighted at the show.
"Since 1790 when the first cotton mill was founded in Rhode Island, New England has been a leader in our countrys quest to capitalize on American innovation and passion for making things," said Kimberly Farrugia, senior event manager for SME. "EASTEC is committed to keeping New England manufacturers competitive by bringing the human ingenuity needed and manufacturing brilliance demanded together in a face-to-face environment."
U.S. manufacturing growth is holding near the strongest pace in three years, according to the Manufacturers Alliance for Productivity and Innovation (MAPI) Foundation Business Outlook, which found that manufacturing growth is expected to outpace the growth of the overall economy for at least the next three years.
Manufacturing is a critical contributor to the economy in the Northeast, and momentum is gathering in the region. For instance, manufacturing accounts for more than 565,200 jobs in Pennsylvania, and 164,200 jobs in Connecticut, just over 10 percent of that states nonfarm total employment. Furthermore, with more than 7,000 manufacturers with nearly 250,000 employees, Massachusetts is also committed to advanced manufacturing through various partnerships to create jobs, promote innovation and grow throughout the state.
At EASTEC, attendees will have the opportunity to connect with resources, research and purchase the latest technologies and discover ways to improve productivity and increase profits. Meanwhile, the complimentary educational sessions will address trending topics such as automation innovations and Lean creativity, along with other major advancements in manufacturing.
New features in 2015 will include keynote presentations from Carl Palme, Applications Product Manager, Rethink Robotics, and Jason Prater, Vice President of Development, Plex Systems, that will help with problem solving complex issues that U.S. manufacturers face today. EASTEC also will highlight the Bright Minds Program, designed to educate the next generation workforce on the advancements in manufacturing that make it an exciting and rewarding career path. Winners of the Bright Minds Dream It! Do It! Student Challenge will be recognized at a special event during EASTEC.
EASTEC is recommended for professionals in industries such as aerospace, defense, medical, automotive, commercial machinery, electronics, fabricating and plastics. The event is nearly sold out and therefore SME encourages companies to reserve exhibit space before its too late.
To learn more about EASTEC, view full conference and exhibit details or register, visit Easteconline.com.
About SME
SME connects all those who are passionate about making things that improve our world. As a nonprofit organization, SME has served practitioners, companies, educators, government and communities across the manufacturing spectrum for more than 80 years. Through its strategic areas of events, media, membership, training and development, and the SME Education Foundation, SME is uniquely dedicated to the advancement of manufacturing by addressing both knowledge and skill needs for the industry. Follow@SME_MFG on Twitter or facebook.com/SMEmfg.
Featured Product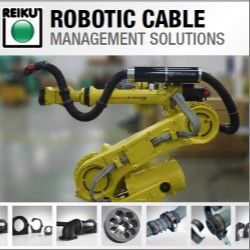 REIKU's Cable Saver™ Solution eliminates downtime, loss of revenue, expensive cable and hose replacement costs, maintenance labor costs. It's available in three sizes 36, 52 and 70 mm. All of the robots cables and hoses are protected when routed through the Cable Saver™ corrugated tubing.The Cable Saver™ uses a spring retraction system housed inside the Energy Tube™ to keep this service loop out of harms way in safe location at the rear of the Robot when not required. The Cable Saver™ is a COMPLETE solution for any make or model of robot. It installs quickly-on either side of the robot and has been tested to resist over 15 million repetitive cycles. REIKU is committed to providing the most modular, effective options for ensuring your robotic components operate without downtime due to cable management. www.CableSaver.com