Showcasing at Vision China, industrial-grade video interfaces support high-reliability GigE Vision® and USB3 Vision™ video transmission in hostile -40°C to +60°C operating conditions
Pleora Technologies, the world's leading supplier of high-performance video interfaces, today introduced new products for video connectivity in harsh environments. With the industrial-grade iPORT™ NTx-GigE Embedded Hardware for GigE Vision connectivity, and external frame grabbers that convert video from Camera Link and HD-SDI cameras into USB3 Vision, manufacturers can streamline the design of high-reliability imaging systems for -40°C to +60°C operating conditions. The company is showcasing its expanded video interface portfolio at Vision China in Shanghai, March 17-19th, 2015. (Booth #1236)

"Our industrial-grade video interfaces are built on market-proven technology platforms, with customized components that ensure highly reliable, low latency video transmission in challenging operating conditions," said George Chamberlain, CEO, Pleora Technologies. "They are ideal solutions that help speed the design and lower the cost of imaging systems operating in demanding environments, including manufacturing lines, intelligent transportation systems, and in-vehicle or unmanned military and security applications."
Pleoras industrial-grade iPORT NTx-GigE Embedded Hardware provides manufacturers with a fast, economical, and low-risk way to integrate GigE Vision 2.0 video connectivity into imaging systems operating in -40°C to +60°C conditions. The ultra-compact hardware - measuring just 37 millimeters (mm) x 37 mm x 28 mm - is easily embedded into small-body cameras, flat-panel imaging devices, and X-ray detectors. Consuming less than 2 watts of power, the hardware supports per-frame metadata transmission as well as the IEEE 1588 Precision Timing Protocol to enable exact image acquisition.
The companys industrial-grade external frame grabbers allow manufacturers to leverage the high-bandwidth, ubiquitous computing support, and simplified plug-and-play cabling of USB3 Vision for imaging systems operating in -40°C to +60°C environments.
The iPORT CL-U3 External Frame Grabber transmits video from Base and Medium configuration Camera Link cameras with low, predictable latency over a USB 3.0 link. The connection at the workstation is a standard USB 3.0 port, eliminating the need for a desktop PC and enabling the use of lower-power, smaller form factor computing platforms, including laptops, embedded computers, and single-board computers.
The iPORT HDSDI-U3 External Frame Grabber converts images from HD-SDI and SD-SDI cameras, video processors, and systems into uncompressed USB3 Vision video that is transmitted with low, consistent latency over a single USB 3.0 cable directly to an existing port on a wide variety of processing platforms. As a result, manufacturers can lower system costs by employing laptops, tablets, and single-board computers for image processing.
Featured Product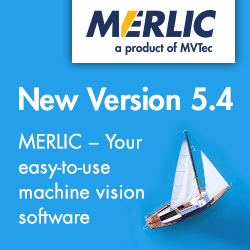 MVTec has launched the newest version 5.4 of its easy-to-use machine vision software MERLIC on Oct. 25. Its focus is on easier process integration. MVTec MERLIC 5.4 includes state-of-the-art machine vision technologies, plug-ins for direct communication with different PLCs and can be used to create complete machine vision applications. Try the new MERLIC 5.4 now!