Expert Siemens Automation Integrator is participating in manufacturing event at Ford Field in Detroit, March 11-12, 2015; Patti Engineerings Senior Engineer Dave Calme will host a seminar to share insight and expertise on converting obsolete Siemens S5 PLC technology to Siemens S7.
Auburn Hills, MI March 11, 2015

Patti Engineering, Inc., a leader in control systems integration, today announced details of its participation in the Manufacturing in American Symposium, featuring the Technology Tip Off, hosted by Electro-Matic and Siemens. The event is taking place March 11-12, 2015 at Ford Field in Detroit, MI. The company is exhibiting for the sixth consecutive year at the event. Attendees are invited to consult with Patti Engineerings Siemens experts at booth #C7.
The conference, hosted by Electro-Matic and Siemens, is the event to be at for manufacturing executives, technology leaders and innovators. The two day event allows experts from the field to explore how technology is driving a manufacturing resurgence in America. This year, the event will boast nearly 100 technical seminars. Technical seminars will span the topics of Engineering Management, Electrical Engineering, Controls Engineering, Facilities Management, Energy and Sustainability and more. Part of the Symposium is the Technology Tip-Off, where technology specialists from more than 40 vendors will host collaborative demonstrations of innovations and products.
Patti Engineerings Senior Engineer, Dave Calme, will host a technical seminar on "Upgrading Legacy Siemens S5 PLCs with the New TIA Portal" on March 12 at 1:00 p.m. The session will provide a review of the technology and expertise required to upgrade Siemens S5 legacy systems to the current S7 hardware platforms. Patti Engineerings staff is particularly knowledgeable in this area and highly trained on the use of Siemens automation products. Many of its engineers have completed the rigorous Siemens Global Technical Certification program in the Simatic technology areas of S7 PLCs, Simatic HMIs and Simatic Networking. Patti Engineering often teams up with Electro-Matic and Siemens to offer customers the complete package of products and services for seamless project execution.
"Year after year, we are impressed with Electro-Matic and Siemens for their ability to collaboratively pull off such a great event. I strongly encourage our employees to attend the educational seminars and stop by exhibitor booths to network," said Sam Hoff, President of Patti Engineering. "We are happy to have Dave Calme share the importance of recreating system behavior, benefits of performing upgrades and the enhanced scalability possible when upgrading Siemens S5 PLCs with new S7 platforms."
About Patti Engineering, Inc.
Patti Engineering, Inc. is a CSIA Certified control systems integration company offering high-caliber engineering and software development services. Patti Engineerings technical expertise in electrical control and information systems provides turnkey control systems integration for design/build, upgrade/retrofit and asset/energy management projects. Industrial automation, production intelligence and shop floor IT solutions services include: project management, electrical engineering, hardware design, hardware procurement, software development, installation, calibration, start-up testing, verification, documentation, training and warranty support. Customer satisfaction and project success earned the company placement in the Control Engineering Magazines Hall of Fame. For more information, visit http://www.pattieng.com.
Featured Product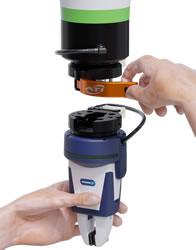 ATI Industrial Automation's MC-10 Manual Tool Changer provides a cost-effective solution for quickly changing tools by hand. Its compact yet robust design is optimized for collaborative robot applications. The ergonomic twist-collar locking mechanism ensures a secure attachment of the tool and easy manual operation with tactile feedback. This Manual Tool Changer can carry payloads of up to 22 lbs and includes multiple fail-safe features that resist vibration and prevent loosening. The MC-10 Manual Tool Changer has integrated air pass-through connections and options to connect electrical utilities if needed. ATI will feature the new MC-10 along with a variety of other robotic demonstrations and product displays at this year's IMTS show in Chicago (Booth #236417).