ProMat 2015—Find What's Next | March 23-26, 2015 | McCormick Place South - Chicago, IL USA
CHICAGO--It's only fitting that the year's largest expo focused around supply chain technology and innovation features an appropriately big-time keynote speaker.

Enter Steve Wozniak, or "The Woz" as he is affectionately known by his fans, who launched one of the most successful tech companies in history along with the late Steve Jobs.
ProMat attendees will have the unique opportunity to hear Wozniak live, in-person during a keynote presentation on March 25 during ProMat 2015 at Chicago's McCormick Place.
Wozniak will discuss the secrets of being a successful entrepreneur, the value of creativity and how to drive it and how he thinks technology will affect our lives and supply chains in the years to come.
Drawing on his more than 50 years in the high-tech industry, his business accomplishments and his unparalleled access to some of the world's greatest minds, Wozniak will provide a preview of what's next in technology.
Visit ProMatShow.com to learn more about this event.
Frank Caliendo to perform at ProMat
To celebrate show sponsor MHI's 70th Anniversary, ProMat will feature an evening of music, food, drinks and entertainment by comedian and impressionist Frank Caliendo on Wednesday, March 25.
Known for his dead-on impressions of famous politicians, actors and sports figures, Frank Caliendo's high energy act is a blend of observations, impressions, characters and anecdotal stories.
Tickets for this event are on sale at ProMatShow.com/70.
ProMat 2015 will be held March 23-26 at Chicago's McCormick Place South. The expo includes over 800 exhibits from leading supply chain solution providers and a comprehensive Educational Conference of over 120 sessions focusing on what's next in best-in-class solutions for manufacturing and supply chain operations.
Additional keynotes will feature Renee Niemi of Google and Whole Foods CEO, John Mackey.
Complete information on ProMat including complimentary show and educational session registration can be found online at ProMatShow.com.
ProMat is powered by MHI
MHI is an international trade association that has represented the material handling, logistics and supply chain industry since 1945. MHI members include material handling and logistics equipment and systems manufacturers, integrators, consultants, publishers, and third party logistics providers. The association sponsors the ProMat and MODEX expos to showcase the products and services of its member companies and to educate manufacturing and supply chain professionals.
ProMat 2015—Find What's Next | March 23-26, 2015 | McCormick Place South - Chicago, IL USA | ProMatShow.com
Featured Product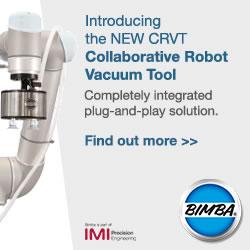 The NEW Collaborative Robot Vacuum Tool (CRVT) from Bimba adds unparalleled flexibility to your collaborative robot. The standard CRVT is highly configurable to meet your application needs, but simple to install and operate. This fully integrated tool means all you need to supply is compressed air and a signal to control the valve. A variety of standard and custom options make the Bimba CRVT the perfect tool for your next collaborative robot project.