Proprietary, Patent-Pending 3D Method Enables Viewers to 'Lean Into a Scene
Morgan Hill, Calif. March 16, 2015

Velodyne LiDAR is ready for its close-up.
Making its Hollywood debut, the company announced today that HypeVR (http://hypevr.com/technology/), a live action Virtual Reality (VR) technology provider, is now incorporating Velodynes 3D LiDAR technology -- and raising the level of live action virtual reality.
Using a proprietary, patent-pending 3D method -- which fuses HypeVRs "Hyper Stitch" algorithm with 3D mapping data from Velodynes multi-channel HDL-32E 3D LiDAR sensor - viewers are able to "lean into a scene" with full six degrees of freedom within a 360-degree live action stereoscopic VR environment. HypeVRs flagship virtual reality rig consists of 14 Red Dragon cameras and Velodynes spinning LiDAR sensor, which provides the ability to simultaneously capture a motion image of 84K at up to 90fps and a 360-degree point cloud at 700,000 points per second.
"I couldnt believe my eyes when we got six degree VR working for the first time," said Tonaci Tran, HypeVR co-founder. "The extra dimension of being able to lean into a live action scene really takes VR to the next level. In order to achieve these remarkable results, we needed a robust solution to record 3D depth information. By combining our proprietary depth algorithm and multi-channel, real-time LiDAR technology, we are able to record ultra high resolution dense 3D depth information at any distance, which enables our 3D capture system to perform well in any environment, indoors and out."
For cinematic VR, this ultra high-resolution capture enables HypeVR to work with the highest quality digital image possible, while HypeVRs integration of LiDAR allows a massive 3D model capture of the live action scene. Velodyne's real-time 3D LiDAR can record depth data at a range of 100 meters with remarkable accuracy, which permits HypeVRs virtual reality capture system to operate in any setting. Because the HDL-32E is Class 1 laser eye safe, it poses no risk of eye damage to those being filmed. While most VR rigs work best when in a fixed spot due to stitching challenges, HypeVRs LiDAR integration allows for movement of the rig itself due to stitching being executed in 3D space.
Wolfgang Juchmann, Director of Sales & Marketing, Velodyne LiDAR, said Velodyne is proud that the same technology in use by major mobile mapping companies is now being deployed in movie production.
"Were delighted to be able to expand into entertainment and film, a new market for us --one that is ideally suited to what our sensors can achieve," Juchmann said. "Velodyne LiDAR has made its mark in automotive, mapping, security/surveillance, and robotics. Combining RGB colors from stereoscopic camera technology with the dense 3D point cloud from Velodyne's HDL-32E for photo-realistic virtual reality effects - thats a real achievement. While stereoscopic camera technology is good for up to 40-50 meters to estimate distances correctly, LiDAR adds highly accurate distance measurements with a full 360° surround view in real-time of up to 100 meters."
Juchmann indicated that Velodynes LiDAR is only a step away from, and expansion to, 3D gaming and computer graphics. HypeVRs Tran, meanwhile, indicated that because its patent pending capture method is camera agnostic, his company is at work on "more compact and affordable systems so that other VR filmmakers can begin creating amazing 6 degree virtual reality content."
About HypeVR
HypeVR (http://hypevr.com) is comprised of a team of film industry veterans and engineers determined to bring the best live action VR capture tools to the VR filmmaking community. The company is focused on developing next generation live action software tools and 3D capture systems to enable the creation of six degree live action VR. For more information, see: http://www.roadtovr.com/hype-vr-captures-ultra-high-def-360-degree-depth-mapped-video-using-a-14-x-red-dragons-and-lidar/.
About Velodyne LiDAR
Founded in 1983 and based in Californias Silicon Valley, Velodyne Acoustics, Inc. is a diversified technology company known worldwide for its high-performance audio equipment and real-time LiDAR sensors. The companys LiDAR division evolved after founder and inventor David Hall competed in the 2004-05 DARPA Grand Challenge using stereovision technology. Based on his experience during this challenge, Hall recognized the limitations of stereovision and developed the HDL64 high-resolution LiDAR sensor. Velodyne subsequently released its compact, lightweight HDL 32E sensor, available for many applications including UAVs, and the new VLP-16 LiDAR Puck, a 16-channel real-time LiDAR sensor that is both substantially smaller and dramatically less expensive than previous generation sensors. Since 2007, VelodynesLiDAR division has emerged as a leading developer, manufacturer and supplier of real-time LiDAR sensor technology used in a variety of commercial applications including autonomous vehicles, vehicle safety systems, 3D mobile mapping, 3D aerial mapping and security. For more information, visit http://www.velodynelidar.com.
Featured Product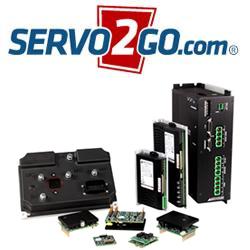 Engineered to drive brushless and brush servomotors in torque, velocity or position mode, Servo2Go.com offers a broad selection of servo drives in a wide range of input voltages and output power levels.