GWconnect solutions combat mechanical stress in power, signal and control circuits
LISLE, Ill.---Molex Incorporated announces the expansion of its Heavy Duty Connectors following the recent acquisition of the GWconnect product range from Italian industrial connector manufacturer Westec Srl. GWconnect Heavy Duty Connectors provide exceptional mechanical strength and vibration resistance in power, control and signal circuits.

"Heavy Duty Connectors complement our trusted Brad solutions for industry and build on our industrial automation portfolio," said Riky Comini, director of business development, Molex.
UL/CSA-approved GWconnect connectors are rated to IP66, IP67 or IP69K (EN 60529) for applications exposed to harsh substances or requiring frequent wash down. Applications may include control panels, robotics, industrial automation, food and beverage, in addition to railway, commercial vehicle and renewable energy equipment.
Constructed of die-cast aluminum alloy with a polyester powder coating, Molex GWconnect connectors are available with a range of enclosure materials and options. Inserts constructed of self-extinguishing UL 94V-0 thermoplastic material are available with screw terminals, screw terminals with terminal block, spring terminals, crimp terminals and push-in terminals. Special sealing gaskets protect the inserts against dust, water and chemical agents. Turned contacts are made of hard silver or gold coated copper alloy, ensuring high reliability and performance. A complete range of stamped crimp contacts, supplied on reel, is also available for automated crimping. Sealed GWconnect solutions feature a lever locking system to resist impact and prevent accidental unmating.
"Whether a customer has a specialty application or needs reliable connectivity in an automated high volume assembly, Molex Heavy Duty Connectors perform in industry's most challenging environments," adds Comini.
For more information about Molex GWconnect Heavy Duty Connectors, please visit www.molex.com/pa/hdc.html.
About Molex Incorporated
Providing more than connectors, Molex delivers complete interconnect solutions for a number of markets including: data communications, telecommunications, consumer electronics, industrial, automotive, commercial vehicle, aerospace and defense, medical, and lighting. Established in 1938, the company operates 45 manufacturing locations in 17 countries. The Molex website is www.molex.com. Follow us at www.twitter.com/molexconnectors, watch our videos at www.youtube.com/molexconnectors, connect with us at www.facebook.com/molexconnectorsand read our blog at www.connector.com.
Featured Product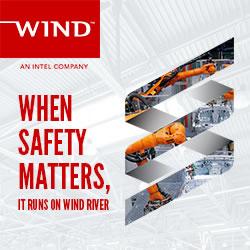 When it comes to ensuring the development of can't-fail systems, Wind River® is a leader with a proven track record of success. With more than 30 years of experience in embedded software and a portfolio of products deployed across more than 2 billion devices, Wind River delivers safety and security when it counts most. From industrial automation to automotive systems, as well as in healthcare devices, railway operations, and throughout the aerospace and defense sector, Wind River has extensive expertise providing built-in safety for complex, connected, safety-critical systems.