RoboticsTomorrow has teamed up with Northwestern University Professor Jarvis Schultz to give 3 Master of Science in Robotics program students the opportunity to attend and report on Automate 2015 with full media credentials.
San Diego, California, March 18th, 2015 - RoboticsTomorrow, an online robotics and industrial automation publication with the help of Jarvis Schultz, Assistant Director of the MSR program at Northwestern University will be sending 3 students from the MSR program to Automate 2015 as media members on behalf of RoboticsTomorrow.com.

The 3 students selected, Austin Lawrence, Mahdieh Nejati Javaremi & Sabeen Admani were amongst several students who submitted an essay on why they would want to attend Automate 2015 and what they would cover while at the show. These 3 winners will be given a full access Media Pass for Automate 2015 which gives them access to the exhibit floor, press conferences, keynote address and all the conference sessions during the show.
Jarvis Schultz who helped coordinate this said "I\'m really excited that these MSR students get the chance to participate in this venture. The Automate show represents a wonderful opportunity for them to experience the latest in automation technologies, and it provides a chance to see some real-world applications of their coursework. Many thanks to RoboticsTomorrow for facilitating this opportunity."
While at Automate 2015 the students will be asked to write articles and give perspectives on their experience. Bob Hetherington, editor for RoboticsTomorrow said this about the student reporters; "We're hoping that this opportunity will provide these students with a real world perspective on their chosen field and in turn, via their reports, give our readers a fresh perspective on what this tradeshow and the companies participating in it represents to those who are entering the industry".
Stay tuned for all the articles and perspectives going live shortly after the event on RoboticsTomorrow.com.
As well as the student reporters RoboticsTomorrow.com is offering a special newspage devoted to news & PR from Automate 2015, visit RoboticsTomorrow.com for more.
About RoboticsTomorrow.com
RoboticsTomorrow is a newly launched community website where those of you who work in the Robotics Industry are invited to contribute articles, news and product information for your peers to read and discover. Our philosophy is to create an outlet where the industry can report on itself.
About Northwestern University Master of Science in Robotics
The Master of Science in Robotics (MSR) program is for engineers who want to work in the rapidly growing field of robotics. Roboticists must possess a depth of knowledge and experience in a broad array of fields. This one-year program, offering an MS in Robotics, is designed to prepare students possessing an undergraduate education in engineering or computer science for an exciting career in the robotics world. http://robotics.northwestern.edu/
About Automate
Automate is organized by the Association for Advancing Automation, the global advocate for the benefits of automating. A3 promotes automation technologies and ideas that transform the way business is done. A3 is the umbrella group for Robotic Industries Association (RIA), AIA - Advancing Vision + Imaging, and Motion Control Association (MCA). RIA, AIA, and MCA
Featured Product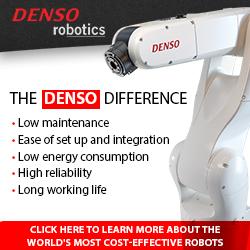 DENSO is the world's largest manufacturer - and user - of small assembly robots, employing over 17,000 of its robots in its own facilities. Over 77,000 additional DENSO robots are used by other companies worldwide. The compact, high-speed robots are used in traditional manufacturing sectors, as well as in advanced-technology applications in the medical, pharmaceutical and life sciences industries. Learn more about DENSO Robotics