March 23-26, 2015 at McCormick Place in Chicago, Illinois, USA.
Waterloo, Ontario - March 17, 2015 - Teledyne DALSA, a Teledyne Technologies company and global leader in machine vision components and solutions, will exhibit its industrial vision solutions in booth #931 at Automate 2015. Held bi-annually, Automate showcases the full spectrum of automation technologies and solutions and takes place March 23-26, 2015 at McCormick Place in Chicago, Illinois, USA.

Teledyne DALSA offers a comprehensive portfolio of vision components including area and line scan cameras and frame grabbers, ideal for OEM system integration; as well as advanced smart cameras and vision controllers bundled with ready-to-deploy application software for the factory floor.
Automate 2015 Featured Products and Solutions
Advanced Vision Software Solution - Teledyne DALSA vision systems include user-configurable software that can be deployed in a wide variety of industrial inspections. Focused on simplicity and ease-of-use, our vision software allows users to get up and running with an inspection application in a matter of minutes.
Single and Multi-Camera Vision Systems - The BOA is a standalone smart camera series offered in a range of resolutions and performance models for both monochrome and color inspections. GEVA multi-camera vision systems provide up to six high speed GigE camera ports, with multi-core processing. BOA and GEVA platforms ship with a choice of application software to suit a widening number of factory floor applications.
Vision Components for OEM Applications - Teledyne DALSA offers low-cost, high-value area and line scan cameras to support OEM applications. Field proven and versatile, the Genie (GigE Vision) series offer resolutions from VGA to 12 megapixels, with high dynamic range, and frame rates to 300 fps. Teledyne DALSAs new, low cost, Linea line scan cameras, with Camera Link and soon-to-be-released GigE Vision interface, provide 2k, 4k, or 8k single line imaging at up to 80 kHz line rate.
About Teledyne DALSAs Machine Vision Products and Services
Teledyne DALSA is a world leader in the design, manufacture and deployment of digital imaging components for the machine vision market. Teledyne DALSA image sensors, cameras, smart cameras, frame grabbers, and software are used in automated inspection systems across many industries and applications. www.teledynedalsa.com/imaging
About Teledyne DALSA, Inc.
Teledyne DALSA, a Teledyne Technologies company, is an international leader in high performance digital imaging and semiconductors. The company designs, develops, manufactures and markets digital imaging products and solutions, in addition to providing specialized semiconductor products and services including MEMS. www.teledynedalsa.com
Featured Product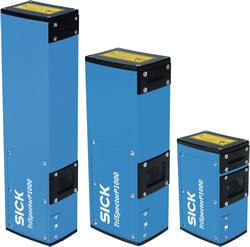 Take your quality inspections to the next level with tailor-made 3D solutions from SICK, Inc. The TriSpector1000 is a stand-alone, configurable 3D vision sensor that reliably inspects objects regardless of variations in color, height, shape, or position. It is suited for solving quality control issues and can be used for volume & thickness measurement and inspection of box integrity. Check out SICK's quality inspection solutions at Pack Expo 2019 in Booth #LS-6419.