Membership and revenue gains for CSIA on uptick since 2009
MADISON, Wisconsin - The Control System Integrators Association (CSIA), the only global and nonprofit trade association for system integrators, is marking a five-year period of sustained growth where members continue to be sought as qualified, reliable experts in the automation industry.

Since 2009, CSIA has experienced annual increases in overall membership and revenue.
"CSIA's total member numbers are up 50% and world membership has doubled as we focus the CSIA value proposition message on Latin America and Europe," says Bob Lowe, executive director of CSIA. "This shows there is optimism in the system integration industry, which helps boost the effectiveness of our members and further establishes CSIA as a global industry leader."
The good news for CSIA comes as the U.S. economy marks another consecutive month of growth, according to the latest Manufacturing Institute for Supply Management ISM Report on Business. The survey of manufacturing supply managers shows that industries served by CSIA's members, such as food and beverage, metals, petroleum and chemicals, are seeing an increase in orders for exports and a rise in employment.
The Exchange: CSIA's convenient online resource for industry clients
As CSIA grows, the association is improving services for members and industry clients, especially with the recent launch of the Industrial Automation Exchange. CSIA created the Exchange website to better connect system integrators and suppliers with those who are looking for automation solutions.
"CSIA members offer system integration expertise in today's sophisticated manufacturing and industrial environments. They know how to use the latest technology," adds Lowe. "Operations managers, directors of quality assurance and many others are logging on to the Exchange and conveniently searching for the right people and products to help drive company growth and productivity, and to manage risk for their business."
CSIA's integrator and partner members provide services, solutions and products for control and information system integration. To learn more about the Exchange, visit www.csiaexchange.com.
About CSIA
Founded in 1994, the Control System Integrators Association (CSIA) is a not-for-profit, global trade association that seeks to advance the industry of control system integration. Control system integrators use their engineering, technical and business skills to help manufacturers and others automate their industrial equipment and systems. CSIA helps members improve their business skills, provides a forum to share industry expertise, and promotes the benefits of hiring a certified control system integrator. CSIA has nearly 500 members in 27 countries.
CSIA also hosts the Industrial Automation Exchange to connect manufacturers and others with the system integrators and industry suppliers who can meet their automation needs.
Featured Product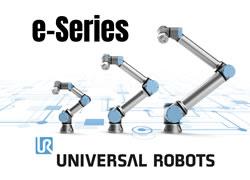 With the new e-Series cobot line, Universal Robots raises the bar for cobots, adding unique new features while significantly strengthening the four core principles defining collaborative robots: fast set-up, easy programming, flexible deployment, and safe operation. With a new built-in, tool-centric Force/Torque sensor the e-Series is ready to take on applications requiring force control right out of the box. A repeatability of 30 micron means the new cobots are suitable for very precise finishing, assembly and electronics tasks. A re-designed user interface decreases cognitive load and expedites program development, while a new externally accessible, 500Hz system bus enables more complex motion control algorithms or profiles.