Survey data from SMEs Advanced Manufacturing Opportunities Report demonstrates how U.S. companies are using advanced manufacturing technologies to remain competitive and improve overall performance.
DEARBORN, Mich. March 17, 2015

More than half of manufacturing leaders are planning to invest in advanced manufacturing technologies in the next two years, according to SMEs Advanced Manufacturing Media. The findings are part of the organizations Advanced Manufacturing Opportunities Report, which highlights results of a survey of manufacturing executives, engineers and managers on why companies are investing in and using advanced manufacturing technologies such as industrial robotics and additive manufacturing, or 3D printing.
"The survey results clearly show that advanced manufacturing is a priority for companies that want to remain competitive," said Dave ONeil, director of Advanced Manufacturing Media. "Our survey shows that the companies who have already made these investments have seen improvements in product quality, production speed and costs."
Survey says …
When asked what is driving the need for advanced manufacturing improvements, 66 percent of respondents identified competitive advantage as the top factor. Other drivers included:
* Growing business opportunities
* Improving production efficiencies
* Adapting to customer needs
* Improving quality
Companies already investing in advanced manufacturing have seen improvements in product quality and reliability, production speed, production costs and improved performance of finished products.
Among the most popular areas for investment: advanced software, industrial robotics, advanced sensing, measurement and process control, and additive manufacturing.
In all, 54 percent of employees of large manufacturers, with more than 500 employees, said their company planned to invest more than $1 million in such technologies during the next two years, with another 25 percent planning to invest between $300,000 and $1 million. More than half of medium and small-sized manufacturers, meanwhile, plan to spend between $100,000 and $500,000 toward advanced manufacturing in the next two years.
Methodology and demographics
Data for the survey was compiled from 618 U.S. manufacturers surveyed from April to May 2014.
The online survey consisted of 20 multiple-choice, rating and differential scale questions. Survey participants are part of SMEs professional manufacturing database, which includes engineers, supervisors and executives.
Respondents are primarily corporate management or engineers, 50 and 27 percent respectively, and represent a wide range of company sizes.
Advanced Manufacturing Media
SMEs Advanced Manufacturing Media is a leading source for news and in-depth technical information about advanced manufacturing in North America. It serves an audience of more than 100,000 manufacturing professionals who subscribe to its monthly magazine, iTunes app, industry yearbooks, e-newsletters and other media products. Coverage is focused on some of the world\'s most critical industries: aerospace and defense, motorized vehicles, medical and energy, whether that\'s oil and gas, nuclear, electric, solar or wind. Follow @MfgEngNews on Twitter and facebook.com/AdvancedManufacturingMedia.
About SME
SME connects all those who are passionate about making things that improve our world. As a nonprofit organization, SME has served practitioners, companies, educators, government and communities across the manufacturing spectrum for more than 80 years. Through its strategic areas of events, media, membership, training and development, and the SME Education Foundation, SME is dedicated to the advancement manufacturing by addressing both knowledge and skill needs for the industry. Follow @sme_mfg on Twitter and facebook.com/smemfg.
Featured Product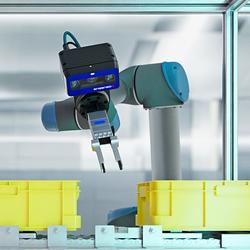 App Your Sensor®! What would smartphones be without apps? They would be mobile phones that can't do much more than make phone calls and sending SMS. Apps turn smartphones into intelligent assistants with any number of different tasks. Transferred into the world of image processing, this app-based approach transforms cameras and sensors into customised, smart vision sensors.