Tom Atwood named Executive Director as efforts expand. Widely known and experienced in the robotics industry, Atwood is recognized for his long-time advocacy for expanding hands-on robotics education.
Ridgefield, NJ March 18, 2015

Thomas Atwood has been appointed Executive Director of the National Robotics Education Foundation. (The-NREF)
Atwood will be responsible for all activities related to the Foundation's mission to advance American robotics education.
Widely known and experienced in the robotics industry, Atwood has long been an advocate of expanding hands-on robotics education and fostering the training of the nation's youth for employment in this rapidly expanding sector.
"The Foundation is pleased to have such an experienced, knowledgeable leader joining us," noted Foundation Board Chairperson JoAnn Laing.
"I accepted this position because I believe the NREF can be an effective vehicle to bring together industry, educators and curriculum providers to expand robotics education at all levels to meet the challenges facing America," Atwood said upon assuming the position. "The Foundation will be an independent meeting and idea exchange nexus for all who are involved in robotics," Atwood added.
Among Atwood's achievements was the launch of Robot magazine, published by Maplegate Media, where 51 issues were published over 7+ years under his editorial direction. He was also instrumental as Editorial Director, in the launch of Fly RC and RC Heli Pilot.
At Air Age Media in the 1990s, serving as Editor-in-Chief and eventually, Editorial Director, Atwood revitalized Model Airplane News and launched the then-titled Backyard Flyer.
About The National Robotics Education Foundation:
The National Robotics Education Foundation was founded in 2009 to foster the use of robotics in educational programs and stimulate the training of young people to assume jobs within the robotics and engineering industries. The Foundation's offices are relocating to San Diego, at 1009 Straightaway Ct., Oceanside, CA 92057. Atwood can be reached at (760) 231-6186.
Featured Product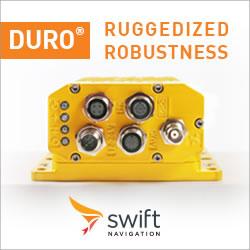 Duro® is a ruggedized version of the Piksi® Multi RTK GNSS receiver from Swift Navigation. Built to be tough, Duro is ideal for robotics applications and is designed for integration into existing equipment. This affordable, easy-to-deploy GNSS sensor is protected against weather, moisture, vibration, dust, water immersion and the unexpected that can occur in outdoor long-term deployments. Download the Duro vibration testing white paper from Swift Navigation.