"See the Future of Mobile Robots - Today" at Booth 1060 March 23-26 at McCormick Place in Chicago
Adept Technology, Inc. (Nasdaq:ADEP), a leading provider of intelligent robots, autonomous mobile solutions and services, will showcase its newest mobile and industrial robots at the Automate 2015 exhibition. Live, interactive demonstrations at the Adept booth include new exciting innovations in Lynx autonomous intelligent vehicles (AIVs) for warehousing and manufacturing applications and the new eCobra family of SCARA robots equipped with force sensing for precision processing and assembly.

"We will be demonstrating our new products, and customers can interact with the robots to better understand their unique capabilities," said Ann Keffer, Adept director of worldwide marketing. "We encourage attendees to come to the booth and to see how our robots can increase the productivity and efficiency of their processes, improve the quality of their products, and lower costs in their operations."
Among the innovations attendees will see:
* A new Lynx AIV model for moving carts that can handle payloads as heavy as 105kg. Adept's latest Lynx products are designed to unlock a new range of materials transport applications, and further increase customers' efficiencies in warehousing, logistics and manufacturing.
* The new Lynx Enterprise Manager 1100 fleet management system. This platform controls all aspects of operating a fleet of Lynx mobile robots, coordinating as many as 100 vehicles simultaneously to enable large-scale deployments in factories and warehouses.
* A new eCobra SCARA robot equipped with force sensing capabilities. eCobra is Adept's latest generation of 4-axis industrial robots, offering a controller-less architecture for easy integration and exceptional performance for high-speed packaging and assembly applications.
Automate will be held March 23-26, 2015, at McCormick Place in Chicago, Illinois. Attendees can visit Adept at booth 1060, and can schedule booth appointments in advance by contacting Ann Keffer .
About Adept Technology, Inc.
Adept is a global, leading provider of intelligent robots, autonomous mobile robot solutions, and services that enable customers to achieve precision, speed, quality and productivity in their assembly, handling, packaging, testing, and logistical processes. With a comprehensive portfolio of high-performance motion controllers, application development software, vision-guidance technology and high-reliability robot mechanisms with autonomous capabilities, Adept provides specialized, cost-effective robotics systems and services to high-growth markets including medical, electronics, food and semiconductor; as well as to traditional industrial markets including machine tool automation and automotive components.
Featured Product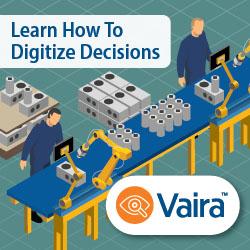 Pleora's AI Gateway simplifies the deployment of advanced machine learning capabilities to improve the reliability and lower the cost of visual quality inspection.