Thermon manufacturing plant has increased production speed as result of ECLF upgrade after Siemens phased out the Simovert MASTERDRIVES drive family.
Auburn Hills, MI & Austin, TX March 25, 2015

Patti Engineering, Inc., a leader in control systems integration, today announced details of its successful project at Thermon, an industry innovator in heat tracing technology. Thermon's manufacturing plant is highly automated; at its heart is the Electronic Cross-Linking Facility (ECLF), which needed an upgrade as Siemens was phasing out the Simovert MASTERDRIVES drive family and the company wanted to establish a plan to ensure system longevity.
Thermon contracted Patti Engineering to upgrade its ECLF. "After meeting with Patti Engineering and discussing our needs, we decided to choose Patti for the upgrades. Together a plan was drawn up along with a stringent timeline to enable us to continue producing product without missing ship dates," explained Thermon's Senior Process Engineer Harry Hutchinson. "Upon initiation of the project we received regular updates of materials arriving on campus along with progress of the project. Once Patti's engineers arrived on campus for the final integration, we received daily updates as to the status and progress of the project. With completion of the project I will say that Patti Engineering met both the scope and the timeline of the project. This allowed us to continue to get our product out the door and to our customers in a timely manner."
"We were able to exceed the customer's expectations by laying a strong foundation for the project and executing it at the high level our customers have come to expect from Patti Engineering. The resulting benefits include the system's stability that allows high production speed and doubled output, increased reliability, and reduced downtime," said Steve Palmgren, Vice President of Texas Operations, Patti Engineering. "We have a great relationship with the folks over at AWC, who recommended our team to Thermon after hearing about the complexity of this project and how downtime of the ECLF affects production output. Our Austin, TX team developed and executed an engineering study and replaced/upgraded legacy drives and automation equipment to bring the ECLF up to modern day speed."
The Patti Engineering solution for this project included upgrading the old Simovert servo and vector drives with new Siemens drive technology, specifically the Sinamics S120 drives. All five motors needed to be coordinated to work together. To learn more, read the article with in depth technical details of the project here: http:// http://pattiengineering.com/blog/patti-engineering-upgrades-motion-control-to-double-production-speed-for-customer-in-first-month/
About Patti Engineering, Inc.
Patti Engineering, Inc. is a CSIA Certified control systems integration company offering high-caliber engineering and software development services. Patti Engineering's technical expertise in electrical control and information systems provides turnkey control systems integration for design/build, upgrade/retrofit and asset/energy management projects. Industrial automation, production intelligence and shop floor IT solutions services include: project management, electrical engineering, hardware design, hardware procurement, software development, installation, calibration, start-up testing, verification, documentation, training and warranty support. Customer satisfaction and project success earned the company placement in the Control Engineering Magazine's Hall of Fame. For more information, visit http://www.pattieng.com.
Featured Product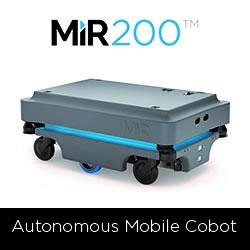 MiR200 is a safe, cost-effective mobile robot that automates your internal transportation. The robot optimizes workflows, freeing staff resources so you can increase productivity and reduce costs. MiR200 safely maneuvers around people and obstacles, through doorways and in and out of lifts. You can download CAD files of the building directly to the robot, or program it with the simple, web-based interface that requires no prior programming experience. With its fast implementation, the robots offers a fast ROI, with payback in as little as a year.