Robot maker uses state-of-the-art projection mapping technology to create unique gaming experience
(Kitchener, ON, Canada - March 31, 2015) - Clearpath Robotics, a leader in unmanned vehicle robotics, has combined resources with Christie, one of the most innovative visual technologies companies in the world, to create a three-dimensional video game using robots. The pairing of Clearpath and Christie bridges two technologies, from unrelated fields, to create an interactive experience in a way that has never been done before.

The project was produced during Clearpaths "hack week," where team members experiment and innovate with new technology and ideas. Computer graphics were displayed on the floor using Christies 3D projection mapping equipment to create a digital arena, while robots dueled with laser beams. Clearpath was inspired by a project from MIT; however, they wanted to create a version using open source software and run as a completely interactive program.
"Teaming up with Christie allowed us to experiment with the latest 3D projection mapping technology in combination with our Jackal robots and open source software. This was our recipe for an augmented reality video game," said Ryan Gariepy, Co-Founder & Chief Technology Officer at Clearpath Robotics. "Combining both of our technologies resulted in a one-of-a-kind experience that was fun to work on and even more fun to play with."
Augmented reality is a term used to describe the superimposing of a computer image in the real world.
Utilizing Christies overhead 3D projectors, the Clearpath team created an overlay under their Jackal unmanned ground vehicles to display weapons, recharging shields, hitpoints, and sound effects for a two player (or human vs. A.I.) game.
For this project, Christie provided four Christie HD14K-M 14,000 lumens 3DLP projectors and two cameras. The projectors use Christie AutoCal software and have Christie Twist software embedded right in. Christie rigged the four projectors in a 2 x 2 configuration on the ceiling of our warehouse. The cameras captured what was happening on the floor and sent that information on the Christie AutoCal software, which then automatically aligned and blended the four projectors into one, giant, seamless 30-foot projection-mapped digital canvas. The Christie hardware and software, in conjunction with two of Clearpaths Jackal robots and computer system allowed for the augmented reality experience to take place.
For more details and a video of the project visit http://www.clearpathrobotics.com/blog/hack-week-augmented-reality.
About Christie
Christie Digital Systems USA, Inc. is a global visual and technologies company and is a wholly-owned subsidiary of Ushio, Inc., Japan, (JP:6925). Consistently setting the standards by being the first to market some of the worlds most advanced projectors and complete system displays, Christie is recognized as one of the most innovative visual technology companies in the world. From retail displays to Hollywood, mission critical command centers to classrooms and training simulators, Christie display solutions and projectors capture the attention of audiences around the world with dynamic and stunning images. Visit www.christiedigital.com for more information.
About Clearpath Robotics
Clearpath Robotics Inc. is a global robotics company dedicated to automating the worlds dullest, dirtiest, and deadliest jobs with intelligent service robots. The Company provides robot hardware, software and services to enable robot development, deployment and operation. Clearpath works with over 500 of the worlds most innovative brands in over 40 countries, serving markets that span industrial materials handling, mining, military, agriculture, aerospace and academia. Clearpath is an award-winning company with recent awards, including Robotics Business Review Top 50 Company, Edison Award for Innovation, Business Insider Top 40 under 40, and Canadas Top 100 Employers. Visit Clearpath Robotics at www.clearpathrobotics.com.
Featured Product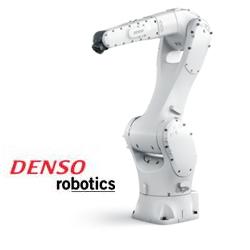 The new VMB series represent some of the newest members to our 6-axis family of robots. These high-performance, versatile units offer a longer arm reach and a higher load capacity than traditional models which make VMB an excellent solution for palletizing, packaging, and material handling. New features include greater air piping, valve and signal line options, as well as new programming options with state-of-the-art functions using our new WINCAPS Plus software. VMB offers an IP67 protection grade along with meeting ISO Class 5, which makes them suitable for electric parts, food manufacturing processes, and pharmaceutical and medical devices. With the addition of the new VMB large robots, all manufacturing processes can now be automated by DENSO Robotics.