COVAL takes the lead in the race for 3D content in the field of vacuum-handling systems thanks to a new mobile application developed with TraceParts
Saint-Romain, France, 1 April 2015 - COVAL is a French company that has been designing and manufacturing components for vacuum handling for nearly thirty years. The use of this handling technique is widespread in the car, food, aerospace and even packaging industries. It involves picking up an object, a sheet of metal or paper, a finished product or even a food product using one or more suction pads to move it from one work-station to another, or to place it in its packaging.

As early as 2007, COVAL asked TraceParts to create 3D models of all the components in its product catalogue and make them available online. Originally, COVAL supplied its CAD models directly to its customers; however, due to the increasing number of requests, the technical department could not keep up with demand, and therefore decided to use TraceParts' publishing solution.
COVAL entrusted TraceParts with its CAD models to develop a library of components, available in different CAD standards and formats via the "http://www.coval.fr/ website and via the "http://www.tracepartsonline.net/" portal.
"Our primary goal in choosing TraceParts was to make our 3D models available for integrators and machine manufacturers, and to reach new customers around the world in several languages. It was crucial for us to be present on the TracePartsOnline.net platform in order to develop our international business and to reinforce our customer services," explains Stéphane Garcia, the Marketing Manager at COVAL.
COVAL did not stop there; as a genuine pioneer in its field of activity, the company recently reinforced its sales strategy with a new application developed by TraceParts, the COVAL e-catalogue, available via the App Store and Google Play. Initially won over by the innovative, user-friendly technology of this mobile application, COVAL rapidly understood the potential of the tool's marketing and sales dimension. "The application is more intuitive than a website. It allows our salespeople to present our complete range of products and recent product upgrades to our customers using their smartphones or tablets. They can also send customers 3D files instantaneously, and have all product technical characteristics and references readily at hand," says Stéphane Garcia.
As an innovation-oriented company, COVAL is therefore pursuing its strategy of making its 3D content readily available to the broadest possible audience. Its new application is widely appreciated by end users and will enable the company to develop its communication in France and abroad, through its subsidiaries in the United States, China, Spain, Italy and Germany.
You will find further information about TraceParts Mobile application at http://www.traceparts.com/use-and-manage-3d-cad-models/download-traceparts-mobile-app/
About TraceParts
TraceParts is a world-leading digital engineering 3D content company, offering progressive business solutions through powerful web based products and services. TraceParts brings targeted and cost-effective market penetration to parts vendors, in all sectors of industry.
The TracePartsOnline.net CAD portal is freely available to millions of CAD users worldwide, with hundreds of supplier catalogs and 100 million CAD models and product datasheets suitable for the Design, Purchasing, Manufacturing and Maintenance processes. For more information about TraceParts, please visit www.traceparts.com
Featured Product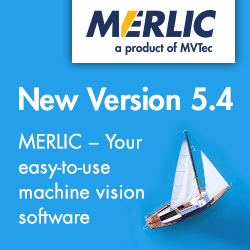 MVTec has launched the newest version 5.4 of its easy-to-use machine vision software MERLIC on Oct. 25. Its focus is on easier process integration. MVTec MERLIC 5.4 includes state-of-the-art machine vision technologies, plug-ins for direct communication with different PLCs and can be used to create complete machine vision applications. Try the new MERLIC 5.4 now!