- Also Adds NJ101 to Expand Sysmac Automation Platform Lineup -
OMRON Corporation (TSE: 6645, ADR: OMRNY) on April 1 announced the global release in April of its new products - NX701 and NJ101 - to further expands the lineup of Machine Automation Controllers which are at the heart of Sysmac automation platform (hereinafter "Sysmac").

The release of NX701 and NJ101 enables a wide range of solutions from cutting-edge production systems to link to simple machines to be provided.
Having the architecture that can quickly incorporate the latest information communication technology (ICT), Sysmac offers an innovative manufacturing environment by creating a variety of application functionalities with software and connecting OMRON and third party factory automation (FA) hardware and design tools such as 3D simulator.
The new NX701 is the flagship model that offers speed without compromising on the traditional reliability and robustness, providing the industry's fastest processing speed thanks to the Intel (R) Core (TM) i7 quad-core processor and the large memory capacity. Focusing on the future of sophisticated production sites using IoT, OMRON developed this integrated controller that provides users with scalability beyond the framework of previous controllers such as PLC.
The entry model NJ101 with a simple hardware performance enables application functionalities and solutions of Sysmac to be adopted in existing production equipment and general systems.
In today's globalized manufacturing environment, diverse and complex challenges arise and need to be overcome. The global market rapidly changes, and manufacturing companies are under increasing pressure to supply products in a timely manner that satisfy a wide variety of consumer needs. The trend to aim for innovative manufacturing by leveraging IoT, Big Data, and other latest ICT at production sites is spreading around the world. Anticipating changes in needs of manufacturing companies, OMRON is committing to developing Sysmac and other latest FA devices and enhancing its service and engineering support that manufacturers require.
OMRON has offered application engines including database connectivity and robotics and expanded the lineup of peripheral devices such as high-speed I/O Units, Drive, Safety Components, and Vision Sensors since the release of NJ501 in 2011. Machine builders embarking on new manufacturing all over the world use Sysmac with enhanced application libraries for temperature control and vibration suppression control and the capability to create OMRON's unique solutions.
This release of new Machine Automation Controllers and peripheral devices enables Sysmac to be adopted at every production site. Leveraging the benefits of Sysmac, OMRON creates the latest solutions through the Sensing and Control technology, accumulated know-how and knowledge, and collaboration with third parties to keep innovating manufacturing together with manufacturers.
*Processing speed. Based on OMRON investigation in March 2015.
Products and Features
NX-series Machine Automation Controller NX701
The NX701 is the flagship model with the industry's fastest (*1) processing speed and large memory capacity for variables of 260 MB (*2) and ideal for large-scale, fast, and highly-accurate control with up to 256 axes. The architecture is based on the Intel (R) Core (TM) i7 quad-core processor for fast execution of double precision floating point arithmetic instructions as well as basic instructions. Two 1 Gbps EtherNet/IP (TM) ports are embedded. The large-capacity memory for variables, 260 MB, enables data collection and analysis in parallel with device control.
Featured Product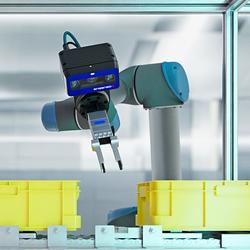 Combining the ease of use of a webcam with the performance and reliability of an industrial camera? The uEye XC autofocus camera from IDS Imaging Development Systems proves that this is possible. Its high-resolution imaging, simple setup and adaptability make it an invaluable tool for improving quality control and streamlining workflows in industrial settings - especially for cases where users would normally employ a webcam. The uEye XC autofocus camera features a 13 MP onsemi sensor and supports two different protocols: USB3 Vision, which enables programmability and customization, and UVC (USB Video Class). The UVC functionality enables a single cable connection for easy setup and commissioning, while delivering high-resolution images and video. This makes the uEye XC camera an ideal option for applications that require quick setup and need to manage variable object distances. Additional features such as digital zoom, automatic white balance and color correction ensure precise detail capture, which is essential for quality control.