Big Joe introduced a host of new innovative material handling equipment models at the recent ProMat exhibition in Chicago. The new equipment is designed for several emerging supply chain trends and drew a strong response from attendees.
Chicago, IL April 02, 2015

After hosting the largest exhibition in the history of the brand, Big Joe is excited to report a strong response from the attendees of ProMat 2015. The Big Joe showcase which featured the ability to test drive a number of new machines on the show floor drew strong crowds which has led to scores of immediate requests for field demonstrations according to the company. "We couldn't be more pleased with the response, the demand for our products coming out of the show has been tremendous", said President of Big Lift LLC Dan Rosskamm.
With over 2,500sqft of interactive displays and over 16 new models since the last ProMat in 2013, the Big Joe showcase experienced heavy traffic and interest from end users and competitors alike. "This show marks a clear return of our brand to a period of rapid innovation and it's great to do it here in Chicago where we got our start", said Bill Pedriana Director of Sales of Big Lift LLC. "With so much changing in the supply chain now to deliver more items to consumers faster, equipment needs to change too. We are working hard to lead the way with small machines designed for what's happening now and what's coming next", said Pedriana.
Of particular interest at ProMat was the ability to test drive several Big Joe Joey series vehicles that are being developed to pick and transport a high number SKUs from small spaces. The machines proved to be very easy and intuitive to drive for attendees, while offering considerable capability for a relatively low cost machine. "With much of the talk at the show focused on automation, robotics and other capital intensive solutions, Big Joe is here to show people that there is another way", continued Pedriana. The Big Joe brand is known for a keep it simple philosophy they pioneered in April of 1951, when Big Joe introduced their first product to the world at the Materials Handling Exhibition in Chicago's International Amphitheater - the model 14.
"With more and more companies in ecommerce, and multichannel or omnichannel distribution these days, there is a move to smaller warehouses closer to where consumers live in order to offer huge selections of goods and same day delivery. We are focused on providing new machines that can support this kind of distribution all the way from a warehouse rack to a store shelf or a person's front door if need be", said Pedriana.
At ProMat, Big Joe also had several new types of delivery products on display built to handle a number of half pallets, carts, and beverage skids based on successes they have had recently with large North American retailers and distributors. Surrounding the display was the messaging of "Equipment made for what's next." Which was appropriate for both the show and where Big Joe seems to be focused.
Joining the Joey and delivery vehicles on display were the new Big Joe V08 mini three wheel forklift, and some units still in development such as the Big Joe QDD cart based order picker, the Big Joe RAP center control low level order picker, and the Big Joe FLEXX small format pallet system.
"It was a lot of work, but now we really need to gear up for a very busy few months. I just got a text from a member of the sales team that reads - order more trucks! - Too cool", finished Rosskamm.
For more information about Big Joe contact: sales(at)bigjoeforklifts(dot)com (630)916-2600
Featured Product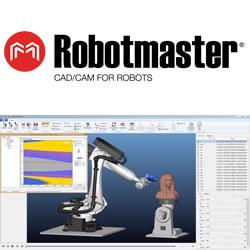 Since Robotmaster V7 uses integrated CAD/CAM functionality, for the first time, the power of Robotmaster can be used by welding, cutting and other process experts without buying or learning complex CAD/CAM software. As in past versions, Robotmaster V7 imports paths, but now makes it even easier for end users to leverage any CAD/CAM tool choice. It is an intuitive tool that anyone could use, with or without robotics expertise. It bridges the gap between robots and manufacturing by providing easy programming solutions for part manufacturing.