DroneDeploy, a start-up that provides cloud-based software solutions for commercial drone operations, announced today that it has raised $9 million in Series A funding led by Emergence Capital, with participation from previous investors SoftTech, DataCollective and Angelpad.
The investment adds to the $2 million in seed funding the company received in September 2014 and is a strong signal that backers are confident the start-up can continue its impressive growth. DroneDeploy will use the funds to adapt its software to more drone platforms, and launch additional products in several industries, such as agriculture, construction, mining, and real estate.

"The commercial drone industry is poised for rapid growth as we continue to see companies and regulatory bodies respond to the value that drone technology can generate," said Kevin Spain, General Partner, Emergence Capital. "DroneDeploy's software solutions are unique in their ease-of-use, speed with which they generate data, and ability to leverage the cloud to instantly deliver critical information to users' smartphones and tablets."
As part of the transaction, Kevin Spain, General Partner with Emergence Capital, will join DroneDeploy's board, which also includes Jeff Clavier from SoftTech.
"The introduction of our mobile software is an inflection point for drone applications. Previously, commercial drones required domain expertise, and many hours to process data. DroneDeploy recognizes that for drones to be truly useful for commercial applications they need to be easy-to-use tools, that quickly deliver value," said company co-founder and CEO, Mike Winn. "DroneDeploy has the first push-button solution for the industry, and the only solution that can deliver maps while the drone is still in flight. Our users are farmers, contractors and mining companies that are leveraging DroneDeploy solutions for their combination of speed-to-data, accessibility, and affordability previously impossible."
http://www.dronedeploy.com/
Featured Product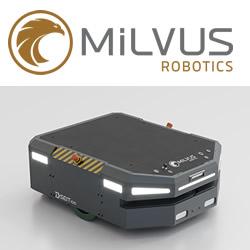 Enhance your material transport capabilities - even in the busiest warehouse or production environments - with SEIT robots. Made by Milvus Robotics, these reliable and safe AMRs efficiently move materials with no human intervention required. They work seamlessly alongside people, forklifts, and other equipment. Requiring no infrastructure, SEIT robots are suitable for a range of manufacturing environments, distribution centers and more.