Virtuabotix.com announces its plans to expand distribution, following recent product additions. Now over 400 unique Open Source Electronics, Robotics, and educational kits available to small businesses.
Portland, OR April 02, 2015

Virtuabotix.com, a well known online electronics company, has recently relocated from Colorado Springs, CO to Portland, OR. The owners of the company, Joe and Katherine Dattilo, are currently branching out and offering the exciting opportunity to work with them and start carrying some the Virtuabotix line. "We have a huge selection of all sorts of high demand electronics, from DC motors that can be used in kinetic art applications to motion sensors for robotics and all kinds of educational kits ready for retail!" Says, Katherine (co-founder Virtuabotix LLC), "our products really appeal to a large market, especially in the Portland area where so few gadget businesses exist and so many eclectic shops cater to specialty markets. There is a growing need for what we carry but so few companies like ours exist in this area, were really excited for the opportunity to start forming relationships with other shops and businesses!" Virtuabotix founder Joe Dattilo adds, We are proud to carry over 400 unique products and over 40 trusted brands, including several that can only be obtained from our catalog".
Along with their large inventory Virtuabotix has a team of focused individuals, a friendly customer service staff and seasoned technical staff which respond personally by phone or email to customers with questions or concerns. "We really value our customers, we want to make their experience with us nice and simple as possible. People see the Virtuabotix name and they know theyre getting quality. Wed love to extend that courtesy and client base to other businesses." Says Joe. "We have really big plans for the future and this market is really starting to take off. This is a great time to team up with us, things are only getting better!"
Virtuabotix.com has recently been upgraded to help better support shops and businesses who have partnered with them, and a wide variety of additional options are now available for business to business relationships with Virtuabotix LLC. "We really wanted a clean site full of easy to navigate pages. We also thought it was important to have built in volume discounting, and easy distribution applications." Says, Katherine, she adds; "Since moving to Portland we've been able to launch over one hundred exciting new products! And we are proud to be one of the leading resources for the open source electronics market! Were also really excited to announce were working on a full inventory catalog which will be ready in the very near future, this will make it even easier for schools and businesses to make informed decisions when serving their student and customer needs!"
Virtuabotix has suggested that any school or company that would like to become part of the Open Source Electronics community, they need only contact Virtuabotix with an application to become a distributor.
Featured Product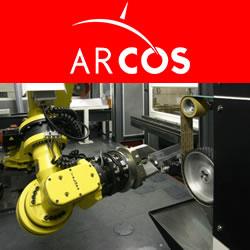 Robotized system for automatic cutting and grinding turbine blades , starting from the rough product. The system is equipped with fully automatic component loading and unloading.