Michigan based firm grows by 25 percent, recruiting designers, engineers and more across all education and experience levels
Warren, Michigan April 02, 2015

Waltonen Engineering, a product and systems engineering firm headquartered in Warren with a long history of high-profile projects, seeks to meet growing demand for business in the manufacturing, automotive, aerospace and military sectors by adding a minimum of 30 career opportunities to the companys current team.
Waltonen is recruiting designers, engineers, account managers, project leaders and robot simulators. The available positions require varying levels of education and experience, from trade school certification through a masters degree.
This hiring effort comes at the end of Michigans historic loss of young talent, with more than 65,000 individuals ages 25-34 exiting the state at its worst in 2006. As the revitalization of some of the states largest industries continues to build momentum, Waltonens CEO Lloyd Brown sees now as the time to expand the firms staff and business opportunities.
"The demand is here. From big three automakers to aerospace clients, we have significant and meaningful projects primed and ready. When we increase our capacity and enhance our team, further company growth will closely follow," said Brown. "These projects require the best of the next generation, and the seasoned professionals who may have left our state when times got hard. Its time for those with skill and a thirst for learning to choose southeast Michigan."
New hires can expect to gain experience with pioneering technologies, including digital manufacturing. This technology is used by designers to create and test manufacturing procedures in 3D, ensuring success on the plant floor. Waltonen leadership will train new hires in this technology and more, allowing them to be at the forefront of the industry.
Waltonens client base ranges from automotive to military to aerospace, with many of their contracts spanning decades, including a big three contract that has been held for more than 50 years. Incoming team members will join forces with current expert problem solvers to continue those long-term relationships by providing high-quality work cultivated in the firms collaborative, open work environment.
"We have taken walls down, literally," said Brown. "There are no cubicles here. Employees at every level are encouraged to communicate and work together in the development of new ideas. Waltonen is looking for thought leaders who want to be part of a dynamic team and accomplish work that matters. As our company grows, so will our impact."
For more information on Waltonen Engineerings career opportunities, please visit http://www.waltonen.com/current-openings.
Since 1957, Waltonen Engineering has been a leader in providing advanced, cost-effective quality design and engineering solutions to clients spanning the automotive, military, medical and aerospace industries. http://www.waltonen.com
Featured Product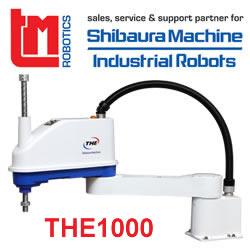 Designed for assembly and inspection applications in the electronics equipment and automobile components industries, the THE600 SCARA is a powerful automation tool. Advancing from the specifications of the existing THE400 SCARA, the THE600 has been developed to meet growing demand for fast-cycle automation. The THE600 model includes improvements in synchronised control and tracking precision. The THE600 is compact in design and offers improved high speed, with 60 per cent higher payload capacity than competing SCARA models in the same price range, making it the price-to-performance leader. Affordable price, impressive performance.