Approaching 19 years online, www.HomeToys.com has revamped its website design for easier navigation and better compatibility with mobile devices.
San Diego, California, April 7th, 2015 HomeToys, a leading resource for Commercial & Residential A/V & Automation industries, today announced the launch of a newly designed website. With the revamp, HomeToys continues to position itself as a leading resource for those who work in the A/V & Automation industry or just share an interest in it.

HomeToys has been redesigned for better compatibility with the variety of mobile devices people are now accessing the internet from. Utilizing responsive web design; the look and feel of the site changes depending on the size of the screen, platform and orientation. Larger fonts and navigation menus allow all readers to find what they want and read it without eyestrain. The new design will bring the HomeToys website on par with how a modern user expects a website to look and function.
HomeToys is a venture of LJB Management Inc. The company out of San Diego, CA is a pioneer in the online Industry eMagazine concept. 2 other popular publications, AltEnergyMag.com (2002) & RoboticsTomorrow.com (2011), draw in thousands of monthly readers from across the globe. Bob Hetherington, editor and founder of LJB Management, had this to say about the redesign of HomeToys.com. "The internet and the way people view content has changed greatly in just the last few years. I think our redesign brings us up to speed and beyond with what our readers expect. I also believe the categories and navigation improvement will help keep HomeToys.com a top resource for the Commercial & Residential A/V & Automation industries for years to come."
About HomeToys.com
Publishing an eMagazine since 1996 HomeToys.com has grown into a highly regarded news and information source for Commercial & Residential AV, Automation & Digital Signage. As an official Google News Source and with well over 60,000 monthly visitors, HomeToys.com is a premier go-to information source for all facets of the AV industry. With in-depth content and vast archives, HomeToys.com brings the industry directly to the desktops of industry insiders from around the globe.
Featured Product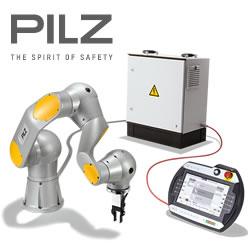 Our service robotics modules give you an easy start in robotics. Assemble your individual robot application - exactly according to your requirements: Service robotics modules consists of the manipulator module PRBT, the control module PRCM, the operating module PRTM and ROS modules. Our collision measurement set PRMS for human-robot collaboration (HRC) supports you reliably on your path to a safe application. Application areas of the service robotics modules can be found in service robotics and industrial environments. Benefit from our cost-efficient, flexible solution!