System Transforms Manned Industrial Vehicles into Unmanned Robots
WALTHAM, Mass. -- QinetiQ North America (QNA) announced today the launch of a new, commercial robotic system that transforms manned industrial vehicles into unmanned robots.

DriveRobotics is an add-on applique kit that enables building demolition and roadside construction companies to convert to unmanned operations whenever operators face hazardous situations. It can also be installed in both new vehicles and existing fleets.
"Our system removes the operator from the danger of falling debris, dust and the constant hammer vibration encountered during building demolition," said Dan Deguire, director of engineering and product development for QinetiQ North America's Unmanned Systems. "DriveRobotics eliminates the need for a spotter, which lowers cost and increases safety at roadside construction sites."
"Having remote-control capabilities enables our customers to use machines in applications that aren't otherwise possible, or that become easier without utilizing an operator," said Laura Ness Owens of Bobcat Company. "Joint development of this system has been a good partnership."
The first DriveRobotics system is shown on a Bobcat E35 and is being displayed at World of Concrete at the Las Vegas Convention Center.
About QinetiQ North America
QinetiQ North America (QNA) is a subsidiary of QinetiQ Group plc, the FTSE250 company listed on the London Stock Exchange (LSE: QQ.L). QNA delivers world-class technology and revolutionary products to the defense, security, commercial and transportation markets. Customers rely on QNA products to increase situational awareness, aid in personal safety, enhance security and streamline operations. QNA is headquartered in Waltham, Massachusetts and operates as the US arm of QinetiQ Group's Global Products division. For more information visit www.qinetiq-na.com.
Featured Product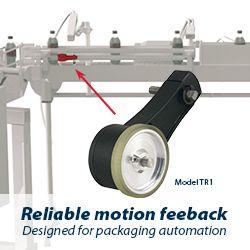 EPC is excited to announce our NEW online 3D Configurator. This new tool makes it even easier to configure EPC's products exactly how you need them for your application. The 3D Configurator interface is intuitive and works in any web browser for both desktop and mobile. It'll only take you a moment to learn your way around the program. Careful, though: it's so fun to play with, you may spend a whole afternoon on it!