"We want our members who experience job loss to know that we understand the difficulties theyre experiencing."
Research Triangle Park, North Carolina, USA (08 April 2015) —The International Society of Automation (ISA) today announces the reinstatement of an ISA member benefit that enables ISA members who are unemployed at their membership renewal date to extend their full membership status by nine months.

"This action by ISAs Executive Board is to great degree in response to the financial pressures and job losses mounting in the oil and gas industry throughout the world," says Rick Roop, 2015 ISA President. "The significant drop in the price of oil—while a boon to consumers and many manufacturers and businesses—has severely curtailed energy exploration and negatively affected many companies that operate in the field. We want our members who experience job loss to know that we understand the difficulties theyre experiencing. We want to help them maintain their full membership in and connection to ISA during their transition to new positions."
The "Unemployed Membership Benefit," which will be enforced retroactively from 1 January 2015, was initially approved as an ISA member benefit in 2009 in response to the global economic crisis. The benefit was not renewed after two years as the world economy recovered.
"At that time, the energy industry was rapidly growing," Roop explains. "In fact, it was a key job generator helping to lead US and other countries out of recession. The oil price crash that began in 2014 has reversed things considerably."
Because ISAs "Unemployed Membership Benefit" extends ISA membership status nine months onto the Societys existing three-month grace period, some affected ISA members may be able to lengthen their membership status by a full 12 months.
An ISA member who has become unemployed should contact ISA (by email at info@isa.org or by phone by calling +1 919-549-8411) to request a one-time, nine-month extension of his or her current membership term. Affected members are eligible for the extension only if they contact ISA during their standard three-month active grace period.
Other important details and provisions of the "Unemployed Membership Benefit" are included below.
* All ISA members will be notified of the membership extension option in renewal notices sent one month after their current membership term has expired.
* All ISA members taking advantage of the "Unemployed Membership Benefit" will enjoy full member benefits, including existing technical division memberships, during the extended membership term (as long as they remain unemployed during the period), with the following exceptions:
* ISAs bi-monthly magazine, InTech, will be delivered digitally starting at the time each member notifies ISA of the desire to extend his or her membership.
* The printed version of ISAs Directory of Automation will not be mailed.
* Any printed ISA division newsletters will be sent in electronic versions via email.
* ISA members receiving the extended membership benefit are expected to contact ISA and renew their paid membership upon re-employment.
ISA encourages all of its members who become unemployed to take advantage of this benefit reinstatement. By maintaining your ISA membership, youll continue to receive valuable technical knowledge and career and skills development, and maintain your engagement in an active association and among an assembly of colleagues and friends that support you professionally and personally.
To view the many outstanding ISA member benefits and personal privileges, visit the member benefit page on the ISA website.
About ISA
The International Society of Automation (www.isa.org) is a nonprofit professional association that sets the standard for those who apply engineering and technology to improve the management, safety, and cybersecurity of modern automation and control systems used across industry and critical infrastructure. Founded in 1945, ISA develops widely used global standards; certifies industry professionals; provides education and training; publishes books and technical articles; hosts conferences and exhibits; and provides networking and career development programs for its 36,000 members and 350,000 customers around the world.
ISA owns Automation.com, a leading online publisher of automation-related content, and is the founding sponsor of The Automation Federation (www.automationfederation.org), an association of non-profit organizations serving as "The Voice of Automation." Through a wholly owned subsidiary, ISA bridges the gap between standards and their implementation with the ISA Security Compliance Institute (www.isasecure.org) and the ISA Wireless Compliance Institute (www.isa100wci.org).
Featured Product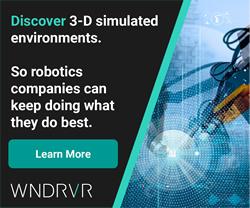 Advances in AI and deep machine learning have ushered in incredible potential for ground-based, aerial, and maritime robotics. Robotics is moving from an opportunity in business and facility operations to a necessity in many industries. As a result, organizations must plan for multi-vendor robots, intelligent traffic flows, storage, and more.