Dozens of Leading Industry Companies Sign On to Exhibit at the Silicon Valley Based Event
SAN JOSE, Calif.--Two of the nations leading drone technology companies have committed their support to Drone World Expo (DWE), the defining event for commercial drone applications, as platinum sponsors. DJI and DroneDeploy will showcase their newest technologies on the exhibit floor and demonstrate the capabilities live at the event scheduled for November 17-18, 2015, at the San Jose, CA Convention Center.

"Today, DJI products are redefining industries. Professionals in filmmaking, agriculture, conservation, search and rescue, energy infrastructure, and more trust DJI to bring new perspectives to their work and to help them accomplish feats safer, faster, and with greater efficiency than ever before," said Eric Cheng, Director of Aerial Imaging, DJI. "We are thrilled to be a platinum sponsor of Drone World Expo, whose attendees will truly represent the industries we serve."
"We look forward to showcasing our newest initiatives and our latest technology at Drone World Expo in San Jose in November," said Gretchen West, Vice President of Business Development and Regulatory Affairs, DroneDeploy. "We recently announced that, through a partnership with leading drone manufacturer DJI, our software is now offered on the DJI Phantom 2 Vision+, making it available to a wider range of end users in agriculture, real estate, mining, construction and other commercial and consumer industries - all of which will be represented at the Expo."
In addition to DJI and DroneDeploy, following is a sneak preview of a handful of representative companies that have signed on so far to exhibit. Dozens more will be unveiled in the coming weeks.
Agerpoint, Inc. provides comprehensive GIS-based asset inventory, data and precision agriculture solutions to growers of tree, wine and bush-based crops. AGERpoint distills data from standard laser and optical scanning equipment into actionable information of permanent crop agricultural holdings from planting to harvest. (www.agerpoint.com)
Alta Devices is (em)Powering the Unplugged World by delivering the worlds most efficient, thin and flexible mobile power technology. By converting light of any kind into electricity, Alta Devicess AnyLight power technology extends the energy source of a system, and in many cases, completely cuts the traditional power cord. (www.altadevices.com)
GensAce offers the High-Discharging and High-Capacity battery pack, which can be compliant with different requirements; they are safe and stable rechargeable Lipo (LiFePO4, LiMn2O4, LiCoO2, LiCoxNiyMnzO2) batteries. (www.gensace.com)
Intercontinental IP is an intellectual property law firm with a focus on drone law to support companies who want to tap into the small commercial drone industry by offering guidance and support with patents, trademarks and copyrights, as the FAA continues to work on regulations for it. (www.iciplaw.com)
Plabers HPRC cases can be used for all sorts of applications and different areas: photography, industrial, military, nautical, police and many others. HPRC provides total protection to the equipment inside them against dust, water, impacts and corrosion for chemical agents. (www.plaber.com)
POMS are pioneers in UAV Insurance. While the FAA establishes operating rules for commercial use of drones, the insurance industry is learning how to address coverage issues ranging from invasion of privacy to aerial surveillance and data collection. (www.pomsassoc.com)
Precision Integrated focus their efforts in direct support of unmanned programs for commercial interests, wildlife and environmental preservation bodies, humanitarian and disaster relief/emergency response organizations, and USG national defense, intelligence, and Homeland Security entities. (www.flyprecision.com)
Riegls The RiCOPTER is used for acquisition of high-accuracy, high-resolution laser scan and image data, the UAS is equipped with the RIEGL VUX-SYS, comprising the VUX-1 LiDAR sensor, a IMU/GNSS unit, a control unit, and up to four high-resolution cameras. (www.rieglusa.com)
Skyspecs WingMan technologies provide tools to simplify the experience of piloting a drone. By automating the complexities of flight, WingMan allows pilots to focus on the mission objectives instead of flight safety. These products are platform-agnostic, drop-in modules that can be equipped as a co-pilot on any popular system. (www.skyspecs.com)
UAV Solutions has launched a family of unmanned aircraft systems that meet a wide array of surveillance and security needs. These vehicles are available to help serve organizations in need of reliable, affordable unmanned systems for intelligence, surveillance and reconnaissance (ISR) missions as well as for experimentation purposes. (www.uavsolutions.com)
Velodynes LIDAR division has emerged as a leading developer, manufacturer and supplier of real-time LiDAR sensor technology used in a variety of commercial applications including autonomous vehicles, vehicle safety systems, 3D mobile mapping, 3D aerial mapping and security. (www.velodyne.com)
"The response from the UAV vendor community to this event has been extraordinary and the expo hall is filling up fast with commitments from innovative industry leading companies including our two esteemed platinum sponsors," said Joel Davis, CEO, JD Events, producer of the event. "From sensor technology to surveillance needs, insurance companies to law firms, Drone World Expo will offer the entire ecosystem of commercial drone applications and solutions for end-users. With the types of companies that are already signed up at this early stage, this will truly be an exciting, interactive and informative showcase of the latest technology in the unmanned aerial industry."
Registration for the Expo, which will give attendees access to hundreds of products on display, Tech Talks in the exhibit hall, flying demonstrations, and unique networking opportunities is free of charge for all industry professionals and is now available at www.droneworldexpo.com. The entire conference program is free of charge for qualified end-users.* The cost for those who do not qualify as end-users is $495 before September 30, $695 until November 16, and $995 at the show. All attendees will also have the opportunity to register for the MAPPS Geospatial Track at DWE for just $95.
Drone World Expo, the defining event for the commercial applications of UAS technology, will take place November 17-18, 2015 at the San Jose Convention Center. For more information, visit www.droneworldexpo.com. The event is produced by JD Events, dedicated to the creation of targeted and innovative industry-leading events that deliver results. The company brings together highly qualified buying audiences, education-rich content and high-level networking opportunities -- all geared toward increasing business transactions in the markets it serves. Visit www.jdevents.com for more information.
*Complimentary full conference passes are available to qualified end-users. End-users are defined as those with technology purchasing authority or purchasing influence who are currently employed by a commercial company that utilizes or has the potential to implement UAS technology for business purposes, but does not sell UAS technology products, services, integration or consulting. Company website is required and will be used in the qualification process. Please contact us at 203-371-6322 or info@jdevents.com with any questions.
Featured Product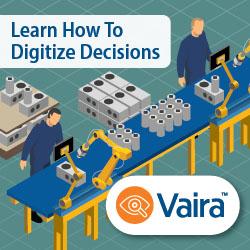 Vaira™ helps manufacturers digitize, automate, and upgrade error-prone manual processes and decisions to boost productivity and increase profits by helping humans make decisions consistent, reliable, and traceable. The camera-based solution is powered by a scalable suite of shop floor-ready apps built on proven machine vision and AI expertise for frontline manufacturing operations, with two-way integration to resource planning tools to help drive continuous analysis, insight, and improvements. Start digitizing immediately, streamlining processes customized to your unique requirements and reduce errors that lead to costs, delays, and quality concerns.