Results from a post-show survey indicated that 96% of exhibitors said that Automate 2015 either exceeded or met their expectations, and 88% are likely to exhibit at the 2017 show, many with larger booths.
Ann Arbor, Michigan, USA - Automate 2015 set new show and conference records with 18,115 verified attendees visiting the show floor from across the United States and 72 other countries, announced the Association for Advancing Automation (A3). North America's leading automation event took place March 23-26, 2015 in Chicago. Nearly 600 people participated in the conference.

"All of our statistics increased significantly from the last Automate show in 2013," said Jeff Burnstein, President of A3, sponsor of the Automate Show & Conference. "The exhibition was 76% larger, total number of show attendees jumped 61%, and conference participants grew 63% over our 2013 results. This growth demonstrates that there is an increasing need for an event like Automate that provides practical, real-world solutions for companies currently automating or considering automation."
Burnstein noted that the strong international participation at Automate is indicative of the fact that automation is on the rise globally. "Automate has become a truly international event; we were very happy to host the 46th International Symposium on Robotics (ISR) in conjunction with Automate and plan to continue that relationship in 2017 when Automate returns to Chicago."
The Automate post-show survey indicates that 84% of attendees have a key role in the acquisition of automation products and systems, while 70% said their company plans to purchase automation components and/or systems in the next 12 months.
"You really get to see a great cross section of the entire automation industry at Automate, along with the latest technologies that are making an impact on manufacturing today," said attendee Joel Carter, President of Expercon Services in Orlando, Florida.
Exhibitors also expressed satisfaction with the show, according to A3. Results from a post-show survey indicated that 96% of exhibitors said that Automate 2015 either exceeded or met their expectations, and 88% are likely to exhibit at the 2017 show, many with larger booths.
"Automate was once again a fantastic event for us with nearly triple the number of high quality leads," said Nick Tebeau, Vision Solutions Product Group Manager at LEONI. "With all the different automation technologies under one roof, Automate gives us significant exposure to key potential customers. We're already looking forward to Automate 2017."
The next Automate event will be held April 3-6, 2017 at McCormick Place in Chicago, collocated once again with ProMat, which is sponsored by MHI. A3 officials said the success of the 2015 event has led to a record request for Automate booth space and that it's likely the show will sell-out of floor space for the first time in its history.
For more information about Automate, visit the show's website or call A3 Headquarters at 734/994-6088.
About Association for Advancing Automation (A3)
The Association for Advancing Automation is the global advocate for the benefits of automating. A3 promotes automation technologies and ideas that transform the way business is done. A3 is the umbrella group for Robotic Industries Association (RIA), AIA - Advancing Vision + Imaging, and Motion Control Association (MCA). RIA, AIA, and MCA combined represent some 800 automation manufacturers, component suppliers, system integrators, end users, research groups and consulting firms from throughout the world that drive automation forward. For more information, please visit our websites: A3, RIA, AIA, MCA.
Featured Product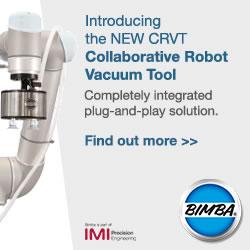 The NEW Collaborative Robot Vacuum Tool (CRVT) from Bimba adds unparalleled flexibility to your collaborative robot. The standard CRVT is highly configurable to meet your application needs, but simple to install and operate. This fully integrated tool means all you need to supply is compressed air and a signal to control the valve. A variety of standard and custom options make the Bimba CRVT the perfect tool for your next collaborative robot project.