Suitable for harsh environments
April 22, 2015 - Frisco, TX -

Hoffmann - Krippner Inc. now offers a wide range of LVDT sensors from its German partner company INELTA for contactless and wear-free path and position detection.
The LVDT sensors operate on the principle of the differential transformer and are suitable for use in many applications, such as medical technology, industrial, seafaring, in testing facilities, machinery construction, special purpose machines and agriculture.
Thanks to the housing made from chemically nickel-plated steel with IP65 type of protection (optional IP68) and a temperature range of -25 to +85°C, which can be expanded on request, the LVDT sensors are suitable for use in harsh environments. Due to their external thread, the devices are easily installed and adjusted. Unlike competing smooth designs, there is no need for them to be clamped with grub screws which can damage the housing and distort the measured value. The connection takes place via a M12 connector or a cable.
They are available as M12 or M18 versions with external thread and capture measuring lengths of up to 2, 5, 10 or 20 mm, depending on the model. It is actuated by an unguided core or a switch with internal spring. The linearity tolerance of the sensors is ± 0.5%.
The M18 sensors come with integrated electronics and a current or voltage output. For the M12 models, users can choose between various signal amplifiers which generate output signals ranging from 0 to 5 V, 0 to 10 V, ± 5 V, ± 10 V, 0 to 20mA or 4 to 20mA.
Custom sensor designs with other configuration options, such as improved linearity tolerance or individual calibrations, are also available. An online configuration guide and questionnaire with optional capabilities are provided to make it easy for design engineers to create their own custom designs.
A wide range of input systems, precision potentiometers, filling level sensors, LVDT, Ultrasonic and load cell sensors can be found at http://www.hoffmann-krippner.com
Featured Product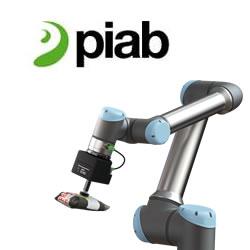 Piab's Kenos KCS gripper enables a collaborative robot to handle just about anything at any time. Combining Piab's proprietary air-driven COAX vacuum technology with an easily replaceable technical foam that molds itself around any surface or shape, the gripper can be used to safely grip, lift and handle any object. Standard interface (ISO) adapters enable the whole unit to be attached to any cobot type on the market with a body made in a lightweight 3D printed material. Approved by Universal Robots as a UR+ end effector.