Drone enthusiasts can find the latest drone and UAV news, laws, press releases, product reviews, videos, drones for sale and reports about the commercial drone market on the new website, drones.org.
Atlanta, GA April 22, 2015

Drones and unmanned aircraft are the subject of a new website, drones.org. The website features extensive information on drones, RC aircraft as well as the UAV industry. There are a number of resources found on the website, including drone news, laws, regulations, videos and reports. The experts at drones.org look to make the website the premier resource for drones, RC drones and the RC aircraft industry.
"We have worked hard to assemble all of the information to become a one-stop shop for all things drones," said the websites spokesperson. "We feature resources on all sorts of drone categories, including drones for agricultural and farming, commercial and professional, military and defense, surveillance and security, mapping and surveying as well as the RC hobby industry."
Drones.org also provides drone enthusiasts and website visitors the opportunity to exchange ideas and connect with the drone community through a drone forum. Here members are encouraged to develop conversations based on drone topics and ideas.
"The drone industry is extremely dynamic as it is continually evolving in both technology and in our society," said the websites spokesperson. "The drone community is a passionate and committed group of people who want to stay up to date with the latest news and information, and that is where we come in."
In addition to being a resource for drone information, the website also offers an area of the website that features drones for sale. Here drone enthusiasts can explore and search out drone parts as well as drone units. Drones.org makes it easy for individuals to find the right drone products for them and purchase them through their easy to use and secure purchasing process.
For those interested in finding drone events in their area, the website features a list of venues and expos that cater to the drone user.
People who are interested in connecting to drones.org can also do so through social media, including on their Facebook page at https://www.facebook.com/drones.org, Twitter account at https://twitter.com/drones_org and Google Plus.
About Drones.org
The new website, drones.org, provides website, including drone news, whitepapers, videos and reports on drones and the drone industry. For more information, please visit http://drones.org/
Featured Product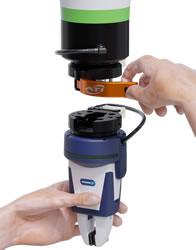 Simpler, stronger, and more precise. ATI Industrial Automation has developed a series of Manual Tool Changers that provides a cost-effective solution for quickly changing tools by hand. They feature a unique design that combines high strength, excellent repeatability, and a patent-pending screw-cam locking mechanism with multiple fail-safe features, which resists vibration and prevents loosening. These robust and compact Manual Tool Changers can handle payloads up to 80 pounds (36 kg) and pass pneumatics and electrical signals.