The system provides significant improvements to the safety and efficiency of UAS operations, whether on the test range or in the field.
HERNDON, Va.--Exelis (NYSE:XLS) has launched its first airspace situational awareness tool designed specifically for unmanned aerial system (UAS) operations in the US. Symphony RangeVue puts real-time Federal Aviation Administration (FAA) surveillance data, flexible background maps and weather information in the hands of UAS operators and test range personnel. The system provides significant improvements to the safety and efficiency of UAS operations, whether on the test range or in the field.

Symphony RangeVue enables UAS operators and test range personnel to have access to both real-time and historical surveillance information via a Web-hosted platform, helping to manage mission operations from multiple locations with full visibility of assets. Symphony RangeVue can be used as a command center decision-support and post-event analysis tool, or in the field as a sense-and-avoid addition to UAS ground control stations. Flexible geo-fencing tools alert operators when a UAS approaches airspace boundaries or when other aircraft are in the vicinity.
"For the first time, UAS operators and test range personnel will have the same situational awareness currently available to general aviation pilots through traffic information broadcast services. This capability is available without having to install avionics surveillance equipment on the UAS aircraft," said Ed Sayadian, vice president of Civil and Aerospace Solutions for Exelis. "Leveraging the FAAs own surveillance data combined with advanced sense-and-avoid alerting capabilities, Symphony RangeVue will significantly increase the safety of UAS operations."
Symphony RangeVue combines a high-performance visualization engine with the vast network of Exelis NextGen surveillance data, including all of the FAAs surveillance systems: automatic dependent surveillance-broadcast; en route radar; terminal radar; airport surface detection equipment-X; airport surface surveillance capability; and wide area multilateration. It also integrates locally deployed surveillance assets to deliver hyperlocal situational awareness.
For more information about the Exelis Symphony suite of secure, nationwide airport and airline surveillance solutions, visit www.exelisinc.com/symphony.
About Exelis
Exelis is a diversified, top-tier global aerospace, defense, information and services company that leverages a greater than 50-year legacy of deep customer knowledge and technical expertise to deliver affordable, mission-critical solutions for global customers. Exelis is a leader in positioning and navigation, sensors, air traffic management solutions, image processing and distribution, communications and information systems; and focused on strategic growth in the areas of critical networks, ISR and analytics, electronic warfare and composite aerostructures. Headquartered in McLean, Virginia, Exelis employs approximately 10,000 people and generated 2014 sales of approximately $3.3 billion. For more information, visit our website at www.exelisinc.com or connect with us on LinkedIn, Facebook, Twitter and YouTube.
Featured Product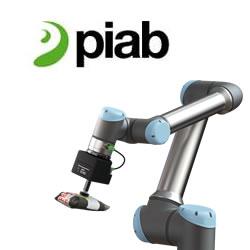 Piab's Kenos KCS gripper enables a collaborative robot to handle just about anything at any time. Combining Piab's proprietary air-driven COAX vacuum technology with an easily replaceable technical foam that molds itself around any surface or shape, the gripper can be used to safely grip, lift and handle any object. Standard interface (ISO) adapters enable the whole unit to be attached to any cobot type on the market with a body made in a lightweight 3D printed material. Approved by Universal Robots as a UR+ end effector.