Filing Signals New Standard for Airworthiness Set by Unmanned Aircraft System Manufacturer, Taking Burgeoning Industry Beyond Exemptions While Delivering First Mover Advantage to Aero Kinetics Clients
Fort Worth, TX April 23, 2015

Fort Worth, Texas, April 22, 2015 — Aero Kinetics has initiated a radical effort that will change the commercial use of Unmanned Aircraft System (UAS) in the National Airspace System (NAS). In March 2015, the agile Aerospace and Defense firm Aero Kinetics applied for Type Certification of their latest generation multi-rotor vertical takeoff and land (VTOL) UAS with the Federal Aviation Administration (FAA).
"We want safe, airworthy aircraft operating within the national airspace. We are excited about this opportunity to work with the FAA to set the bar and establish a method of certifying unmanned systems for commercial use," said W. Hulsey Smith, CEO of Aero Kinetics. Smith continues. "Setting standards in a strategic and safe manner marks a new era in Unmanned Aircraft Systems that literally takes commercial UAS out of the Dark Ages."
Despite the exemptions and blanket Certificates of Authorization (COA), UAS still have restrictive operating limits for commercial users within the NAS due to the uncertainty of the aircrafts quality and performance. Airworthiness and operational certification standards needed for commercial users and consistent access to the national airspace do not exist. Aero Kinetics is pursuing this certification effort to enable their clients to maintain a competitive advantage in their industries.
Aerospace Quality Systems For Commercial Users
"While Amazon and other larger tech companies have struggled, we have taken a different approach for our clients. Instead of beating the FAA up about integrating flying toys into the National Airspace System, we accepted the intent of regulation, to provide for the public safety, and are working with the FAA to find a win-win. Dont get me wrong, the FAA can be tough, but they can be just as reasonable. This is America; We the People innovate without throwing years of systemic safety knowledge out the window in the name of progress. This is why we set out to develop a multi-mission capable system meeting the needs of our customers today. Our systems are not only airworthy, but also mitigate life safety risk through cutting edge avionics and technology," added Mr. Smith.
Through the use of additive metal technologies, 3-D printing, and industry-leading avionics, Aero Kinetics not only is able to rapidly produce systems but also is able to lead the industry in developing vertical take-off and landing (VTOL) UAS worthy of operating in the National Airspace. Aero Kinetics provides comprehensive unmanned aircraft solutions to their clients through full service leases or multi-system sales. In either case, the manufacturer provides full service and maintenance contracts for their UAS. Aero Kinetics believes that such maintenance provides a level of assurance to the public, the FAA, and the operator that is unparalleled. Because of the unprecedented demand for these aerospace quality UAS, Aero Kinetics has started taking deposits for new aircraft orders, in similar fashion to new aircraft orders in the manned aircraft world.
Critical Teaming Partners
Aero Kinetics is currently finalizing agreements with critical teaming partners to further enhance their aerospace-grade UAS. These partners set the standard in their respective industries, which expand well beyond aerospace and defense. Because of these incredible relationships, Aero Kinetics is proud to offer UAS capabilities that are immediately applicable to enterprises in the critical infrastructure, disaster/emergency response, and electronic newsgathering industries.
ABOUT AERO KINETICS:
Aero Kinetics is an agile 21st century Aerospace and Defense firm with distinct business units in Unmanned Aircraft Systems, Aviation Engineering and Certification, Special Missions Operations, Aviation Consulting, and Aircraft Maintenance and Management. Founded by W. Hulsey Smith in 2003, Aero Kinetics rapidly delivers aerospace and defense technology, services, and solutions to our clients that enable them to maintain technological and operational superiority, by bridging the gap between the conceptual and the tangible.
Aero Kinetics has a proven track record of success, spanning more than a decade. We are focused on providing clients with the very best in diversified technologies. We continue to focus our growth on the commercial sector through internal advancements in emerging markets such as Unmanned Aircraft Systems.
Featured Product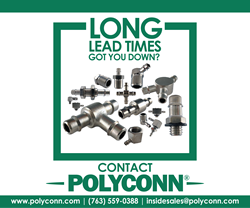 We can produce pneumatic hose and other pneumatic products to match your exact specifications. Our proficient engineering and quality management, coupled with outstanding customer service means Polyconn delivers high quality pneumatic components at competitive prices. Place your order or contact Polyconn for more information on our pneumatic hoses, pneumatic manifolds, Duratec® Pipe or any of our other top quality pneumatic products and components.