Delivering the same control capabilities as its predecessor, the new compact controller incorporates new functionalities for even better performance and user experience.
VERNON HILLS, Ill. - Automation professionals looking for a powerful controller in a compact, affordable design can now turn to the iQ-F Series Compact Controller from Mitsubishi Electric Automation, Inc. The iQ-F Series is based on Mitsubishi Electrics popular and well-established FX Series. Delivering the same control capabilities as its predecessor, the new compact controller incorporates new functionalities for even better performance and user experience.

The iQ-F Series offers synchronized motion control, data logging, and sophisticated security features. This new controller family shares the same design concepts as Mitsubishi Electrics more advanced iQ Platform controllers, unifying connectivity and programming with other Mitsubishi Electric automation components for a scalable solution.
"With our new iQ-F Series, OEMs can build powerful automation systems with fewer components, shorter engineering time, and at lower total cost," said Deana Fu, product manager, Mitsubishi Electric Automation, Inc. "Additionally, the advanced security features allow OEMs to protect their intellectual property at the final installation. Each controller can have a security key that allows users to easily manage access to and operation of both software and hardware."
Advantages of the controller for engineering managers, maintenance engineers and other end users include outstanding throughput, ease of maintenance, and extended machine lifecycle.
When paired with Mitsubishi Electrics D700 Variable Frequency Drives, the new compact controller provides intelligent drive control that is useful in the water industry, specifically irrigation and pump control applications. When combined with the GOT2000 Series Graphical Operator Interface (GOT), the iQ-F Series is an excellent solution for food and beverage applications that require recipe management such as filling, sealing and labeling.
The iQ-F Series controller also offers a comprehensive range of embedded functions, including analog and digital I/O, positioning control, security features, data logging, serial and Ethernet communication. Aside from the built-in positioning functionality, an add-on Simple Motion Module allows users to perform synchronous and cam control for up to four axes of servo via SSCNET III/H in an easy and intuitive format.
Additional functionality with the add-on Simple Motion Module includes camming, gearing, torque control, and linear and circular interpolation, making it a perfect fit for food and beverage, packaging, and assembly equipment. Applications include labelers, small packaging machines, pick and place, and cut to length.
Mitsubishi Electric Automation, Inc.
Headquartered in Vernon Hills, Ill., Mitsubishi Electric Automation, Inc., offers a wide range of factory automation products, solutions, training and support services for the industrial and commercial sectors. A U.S. affiliate company of Mitsubishi Electric Corporation, Mitsubishi Electric Automation represents more than 90 years experience in the automation industry. A broad product portfolio includes programmable logic controllers (PLC), human machine interfaces (HMI), inverters, servo amplifiers and motors, control software, computerized numerical control (CNC), circuit breakers, robots and motion controllers. The company takes its motion control solutions on the road with the 53-foot long Solutions in Motion mobile showroom that appears at tradeshows, training seminars and other events across North America.
Featured Product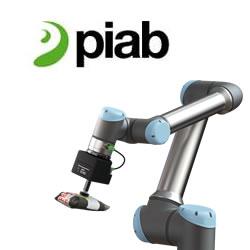 Piab's Kenos KCS gripper enables a collaborative robot to handle just about anything at any time. Combining Piab's proprietary air-driven COAX vacuum technology with an easily replaceable technical foam that molds itself around any surface or shape, the gripper can be used to safely grip, lift and handle any object. Standard interface (ISO) adapters enable the whole unit to be attached to any cobot type on the market with a body made in a lightweight 3D printed material. Approved by Universal Robots as a UR+ end effector.