Robots Designed to Improve Material Handling at Warehouses and Fulfillment Centers
SAN JOSE, Calif.--More and more, when consumers or businesses place an order they want those items delivered immediately. Between services such as Amazon Prime, Google Express, eBay Now, and the continuing growth of e-commerce, there is a consumer expectation of speed and efficiency that is putting significant pressure on the role of logistics and e-commerce warehouses. To address this challenge, Fetch Robotics today introduced a robotics system designed for the logistics industry.

"The growth of e-commerce and mobile e-commerce is pressuring retailers to invest in solutions that can handle the burdens of an on-demand economy," according to Melonee Wise, CEO of Fetch Robotics. "We see our robots as a key ingredient for warehouses that are looking to become more efficient with respect to fulfillment and customer satisfaction."
The Fetch Robotics system is comprised of a mobile base (called Freight) and an advanced mobile manipulator (called Fetch). Fetch and Freight can also use a charging dock for autonomous continuous operations; allowing the robots to charge when needed and then continue on with their tasks. In addition, the system includes accompanying software to support the robots and integrate with the warehouse environment. Both robots are built upon the open source robot operating system, ROS.
The robots are designed to work autonomously alongside workers, performing repetitive tasks such as warehouse delivery, pick and pack, and more. Fetch and Freight used in tandem are capable of handling the vast majority of all items in a typical warehouse.
Fetch is an advanced mobile manipulator, including features such as:
* Telescoping spine with variable height from 1.09 to 1.491 meters
* Capacity to lift approximately 6 kgs.
* 3D RGB Depth Sensor
* Back-Drivable 7DOF Arm
* Modular Gripper Interface
* Head Expansion Mount Points
* Pan-Tilt Head
* Differential Drive
* ROS-Enabled
Freight is a modular base, used separately or in conjunction with Fetch. Features include:
* Base Expansion Mount Points
* Payload support of approximately 68 kgs.
* 2D Laser Scanner
* Stereo Speaker
* Computer Access Panel
* Run-Stop
* ROS-Enabled
"Consumers are increasingly acting like impatient toddlers when it comes to delivery; they want their purchases and they want them now," said Rob Coneybeer, Managing Director at Shasta Ventures. "As a result of this trend, commercial order fulfillment is becoming more and more challenging for retailers. A robotic system such as the one from Fetch Robotics can address these issues and ultimately lead to healthier margins, competitive advantage, and satisfied customers."
Availability
The robots will be on display at ICRA, the IEEE Robotics and Automation Society's flagship conference on May 26-30, 2015 at the Washington State Convention Center in Seattle, Washington. For sales & pilot program inquiries, please contact sales@fetchrobotics.com.
About Fetch Robotics
Fetch Robotics builds robot systems for the logistics industry. The company was founded in 2014 and is headquartered in San Jose, CA. For more information, please visit www.fetchrobotics.com or follow the company on Twitter @FetchRobotics.
Featured Product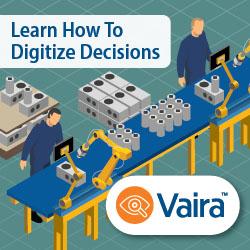 Vaira™ helps manufacturers digitize, automate, and upgrade error-prone manual processes and decisions to boost productivity and increase profits by helping humans make decisions consistent, reliable, and traceable. The camera-based solution is powered by a scalable suite of shop floor-ready apps built on proven machine vision and AI expertise for frontline manufacturing operations, with two-way integration to resource planning tools to help drive continuous analysis, insight, and improvements. Start digitizing immediately, streamlining processes customized to your unique requirements and reduce errors that lead to costs, delays, and quality concerns.