Drone-world.com specializes in custom DJI Phantom 2 and Phantom 3 kits.
Brea, Calif. April 30, 2015

Featuring the industrys first DJI Phantom 3 Kits, Drone World, LLC launched Drone-world.com on Apr. 21.
Drone-world.com is the novice and experienced pilots premier destination for consumer and professional unmanned aerial drones, kits and accessories. Retailing the worlds leading brands including GoPro and DJI, Drone World is the home of the first DJI Phantom 3 Professional & Advanced Kits with case and extra battery, plus more. Available for pre-order now online, Drone Worlds custom DJI Phantom 3 kits feature upgrades and add-ons including self-tightening carbon fiber propellers for better thrust and control, a custom DJI Phantom 3 case and an extra DJI Phantom 3 smart battery for extended flight time.
"After racking up 12 years experience selling premium products online and over 20 years experience building remote controlled devices, the time had finally come to provide online drone shoppers an experience that exceeds all other hobby shops," says Drone World Founder and President Stephen McKenna. "I fly everyday and I encourage everyone to enjoy life from a thrilling new perspective."
The Next Evolution in Consumer Drones.
Unveiled in April, the DJI Phantom 3 Professional and Advanced are the latest iterations of drone makers popular Phantom 2 platform. With upgraded software and flight controls, the Phantom 3 Professional is the most social media friendly quadcopter to date, streaming incredible HD footage directly to YouTube from its built-in 4k camera. Other upgrades include DJIs Vision Positioning system, enabling indoor flying and one-touch takeoff and landing of the Phantom 3. Learn more on Drone Worlds DJI Phantom 3 education and information center which has all Phantom 3 Information including specs, faqs, verses/comparisons, downloads, manuals and more.
"Drone technology is rapidly advancing and the industry is doing its best to keep up. The DJI Phantom 3 and the recently announced 3DR Solo are prime examples of recent technological advances in the drone industry and are ushering in a new era of drone capabilities and uses. And there not just for consumers anymore. Many professional applications such as videography, agriculture and public safety are utilizing drone technology. Drone World is a leader in the drone industry by offering the latest drone platforms with exclusive kits created by kit specialists to provide the best experience for any application," says Chris Brunasso, Drone World Vice President.
Tried and True Performance.
Released in 2013, the DJI Phantom 2 drone is the most popular consumer drone to date. Featuring easy to fly capabilities, newbie and experienced pilot alike have enjoyed countless hours of flight with the industrys most trustworthy quadcopter. In addition to carrying the new Phantom 3, Drone World is taking customers adventures farther with their DJI Phantom 2 kits. Included with the Phantom 2, DWs DJI Phantom 2 FPV drone kits come with an array of custom upgrades including extra batteries, custom case, upgraded propellers and FPV system, as well extended range of up to 1.5 miles in the Falcon Edition Phantom 2 kit.
Drone World is the sister company of TungstenWorld.com, the largest online retailer of tungsten rings and wedding bands. A leader in the jewelry industry for over 10 years, TungstenWorld.coms best quality products and superior customer service have been hallmarks of the wedding ring provider. Drone World will follow in those footsteps by carrying the latest and greatest in quadcopters and UAV filmmaking gear from the likes of GoPro, DJI, 3DR, Futuba and Zenmuse. Customers shopping at Drone-world.com can expect the same inudstry-best commitment to excellence established by its sister site.
About Drone-World.com: Drone World is the the webs preferred destination for consumer and professional unmanned aerial drones, kits and accessories. Combining superior customer service and know-how with years of experience, Drone-world.com features the most trusted brands in the industry including GoPro, DJI, 3DR, Futuba and Zenmuse. They specialize in custom Phantom kits including the recently released DJI Phantom 3.
Featured Product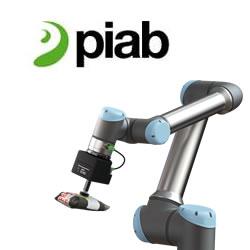 Piab's Kenos KCS gripper enables a collaborative robot to handle just about anything at any time. Combining Piab's proprietary air-driven COAX vacuum technology with an easily replaceable technical foam that molds itself around any surface or shape, the gripper can be used to safely grip, lift and handle any object. Standard interface (ISO) adapters enable the whole unit to be attached to any cobot type on the market with a body made in a lightweight 3D printed material. Approved by Universal Robots as a UR+ end effector.