(Ann Arbor, Michigan, USA - May 1, 2015) - Automate 2015 proved to be a big success for exhibitors according to results of the post-show exhibitor survey.

"Our post-show exhibitor survey indicates that over 95% of exhibitors were satisfied or very satisfied with their experience at Automate," said Jeff Burnstein, President of A3, producer of the Automate Show & Conference. "The broad focus of the Automate Show brings a unique attendee base to exhibitors. In fact, 97% of exhibitors met potential customers that they havent met at other trade shows. We anticipate significant growth for the 2017 show. Nearly 90% of exhibitors plan to exhibit again in 2017."
A total of 18,115 verified attendees visited the show floor, a 61% increase from the 2013 show. North Americas leading automation event took place March 23-26, 2015 in Chicago. Automate 2015 was over 76% larger than the 2013 show bringing in 322 exhibitors on the show floor.
The attendee post-show survey also indicates that 84% of attendees have a key role in the acquisition of automation products and systems, while 70% said their company plans to purchase automation components and/or systems in the next 12 months.
"As a first time exhibitor, Automate 2015 proved to be an outstanding venue to showcase our companys products and services," said Michel Odle, Vice President and General Manager, Alpha Magnet LLC. "The number of highly qualified attendees was impressive, and is already translating to increased revenue and opportunities for us. Automate is certainly one of the best organized and managed events we exhibit at, which allows us to maximize our resources and focus on presenting. Overall, Automate 2015 was a huge win for Alpha Magnet."
New to the show this year was the Automate Launch Pad Startup Competition co-produced with Silicon Valley Robotics, and sponsored by Shell GameChanger. The winner of the competition was Soft Robotics, Inc., a company that designs and builds grippers and control systems that can manipulate items of varying size, shape and weight with a single device.
"For Soft Robotics, Automate 2015 was a pivotal experience," said Carl Vause, CEO of Soft Robotics, Inc. "Winning the Launch Pad Startup Competition and our booth on the exhibit floor gave us visibility to the key players and customers at the show. At our booth we collected 299 customer leads over three days. The networking events allowed our team to meet and form relationships with other A3 member companies. Startups should embrace Automate and understand that the show is a critical enabler for new technologies and early stage companies."
The next Automate event will be held April 3-6, 2017 at McCormick Place in Chicago, collocated once again with ProMat, which is sponsored by MHI. A3 officials said the success of the 2015 event has led to a record request for Automate booth space and that its likely the show will sell-out of floor space for the first time in its history.
For more information about Automate, visit the shows website or call A3 Headquarters at 734/994-6088.
About Association for Advancing Automation (A3)
The Association for Advancing Automation is the global advocate for the benefits of automating. A3 promotes automation technologies and ideas that transform the way business is done. A3 is the umbrella group for Robotic Industries Association (RIA), AIA - Advancing Vision + Imaging, and Motion Control Association (MCA). RIA, AIA, and MCA combined represent some 800 automation manufacturers, component suppliers, system integrators, end users, research groups and consulting firms from throughout the world that drive automation forward.
Featured Product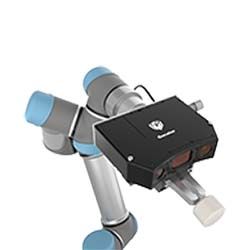 Easily integrate Gocator® 3D line profile and snapshot sensors with a variety of industrial robots to deliver high-performance 3D results in vision guidance, flexible inspection, material dispensing, and automated assembly with smart pick-and-place. Adding 3D vision to a robot turns repetitive, fixed motion into smart movement that can unlock greater value for your automation investment.