September 23-24 at the San Jose Convention Center in San Jose, CA
FRAMINGHAM, Mass., May 4, 2015 -- RoboBusiness is the world's most influential event devoted to business transformation through robotics innovation. Over 2,000 business leaders from around the world will come together September 23-24 at the San Jose Convention Center in San Jose, CA to learn new strategies, make critical connections and discover never-before-seen robotics solutions.

This year's conference theme, Robotics in the Corporate Spotlight, presents a vision for leveraging robotics as an essential part of any winning corporate strategy. The conference features speakers at the forefront of business and technology innovation presenting:
* Biggest Market Trends & Opportunities
* Successful Strategies for Investment, Acquisition and Adoption
* Technology Developments Driving Future Solutions
* Improving Value Delivery in Unmanned Systems, Supply Chain, Manufacturing, Consumer and Healthcare Markets
Meanwhile the RoboBusiness Expo is a hub for viewing the world's cutting edge robots in action, networking with world-class innovators, and learning more from hands-on presentations and expert Q&As. With over 125 robotics and solutions providers, the Expo is the best marketplace for locating state of the art robotics systems and ingredient technologies to fuel business growth.
To kick off the conference, RoboBusiness will honor and highlight robotics companies making remarkable technological accomplishments in their markets. These Game Changer Award winners will be announced during the networking luncheon September 23.
Startups also have their moment to shine during the RoboBusiness Pitchfire September 23, where fifteen standout robotics companies will each receive two minutes to pitch their new products to a panel of Venture Capitalist judges and a packed crowd of attendees.
"The eyes of the world are on the robotics industry as a critical player in our technology future. This year the stakes are higher, the pay-offs are bigger and the need to lead enterprise transformation is more urgent than ever before," says Casey Nobile, Robotics Trends Media Manager.
For more information or to register to attend, visit www.robobusiness.com.
Featured Product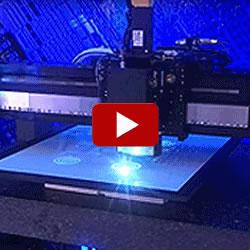 Hexapod micro-motion robots are based on a very flexible concept that can easily solve complex motion and alignment problems in fields including Optics, Photonics, Precision Automation, Automotive, and Medical Engineering.