Innovative 5-Axis VMC from Okuma has extensive CNC machining capacity for heavy-duty cutting.
Charlotte, NC May 06, 2015

Okumas new MU-8000V vertical machining center is excellent for 5-axis multi-sided machining. Standard ball-screw cooling and a highly rigid left-right, mobile trunnion table support high precision and power. The low center of gravity in workpiece movement gives this machine the ability to machine difficult materials and a wide range of workpieces.
This workhorse is available with a standard No. 40 or 50 spindle, providing a configuration for nearly any 5-axis job. An in-machine coil chip conveyor allows for safe, reliable chip discharge. Close proximity of the spindle and control panel in addition to easy access to the workpiece give this machine superior operator functionality.
Maximum productivity is achieved with a wide array of automation options. The unique design places the pallet changes at the back of the machine, allowing easy connection to a PALLETACE flexible manufacturing system, pallet pool, large capacity ATC and robots to deliver high productivity in addition to high accuracy.
The MU-8000V can be equipped with Okumas exclusive Super-NURBS function, enabling high feed rates and ultra-fine finishes. Optional Machining Navi monitors cutting conditions and displays optimal spindle speed to eliminate chatter. 5-Axis Auto Tuning achieves higher accuracies by automatically measuring and correcting machine misalignments in minutes. Okumas Thermo-Friendly Concept and Collision Avoidance System are standard Intelligent Technologies to ensure this 5-axis machining center performs consistently from the first part to the last, regardless of warm up time or ambient temperatures and the machine is protected from potentially harmful crashes.
Key Features of the New Okuma MU-8000V
Axis Travels X/Y/Z mm (in) 1450/1050/600 (57/41.3/23.6)
C-Axis degrees 360 infinite
Rapid Traverse m/min (ipm) X,Y,Z: 50 (1969)
Rapid A/C rpm 30/90
Maximum Load kg (lb) 700 (1,540)
For more information on the MU-8000V visit http://www.okuma.com/mu-8000v-5-axis-mill.
About Okuma America Corporation
Okuma America Corporation is the U.S.-based sales and service affiliate of Okuma Corporation, a world leader in CNC (computer numeric control) machine tools, founded in 1898 in Nagoya, Japan. The company is the industrys only single-source provider, with the CNC machine, drive, motors, encoders, spindle and CNC control all manufactured by Okuma. Okumas innovative and reliable technology, paired with comprehensive, localized service protection, allows users to run continuously with confidence - maximizing profitability. Along with its industry-leading distribution network (largest in the Americas), and Partners in THINC, Okuma facilitates quality, productivity and efficiency, empowering the customer and enabling competitive advantage in todays demanding manufacturing environment. For more information, visit http://www.okuma.com or follow us on Facebook or Twitter @OkumaAmerica.
About Partners in THINC
Partners in THINC is a collaboration network of more than 40 industry leaders who come together to solve problems and explore new productivity ideas for real-world manufacturers. With the open architecture, PC-based THINC-OSP control as its nucleus, Partners in THINC brings specialized equipment, expertise and a commitment to provide the best possible integrated solutions to the end-user. For more information, visit http://www.okuma.com/partners-in-thinc.
Featured Product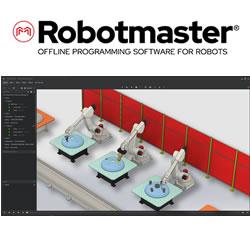 Robotmaster® offline programming software for robots helps manufacturers maximize their productivity and profitability with an intuitive and powerful programing solution ideal for production runs of all sizes and varying part complexity as a result of integrated CAD/CAM functionality.