PCSV discusses the Future of Robotics in STEM Education.
Boise, Idaho May 07, 2015

PCS Edventures!.com, Inc. (PCSV), a leading provider of K-12 Science,Technology, Engineering and Mathematics (STEM) programs, today announced its upcoming webinar about the Future of Robotics in STEM Education. Robotics in classrooms is growing around the globe, and PCS Edventures aims to be at the forefront of this movement. Industry research from the International Federation of Robotics reports 1.2MM entertainment and hobby robotics units sold in 2013, with over 7.5MM projected from 2014 to 2017.
The use of robotics in the classroom fosters intellectual empowerment and confidence, which are integral to the development of other 21st century skills. In addition to the maturation of skills required for the technologically advanced careers of the future, robotics in the classroom introduces students to these STEM-based career opportunities, which they may have never considered before.
Casey Boothby, an Idaho middle-school teacher who has used PCS Edventures robotics curriculum in his classroom for the past four years, says, "I think of all the data, it shows that we are teaching kids skills for jobs that dont even exist for the next 15 years." Boothby has even implemented such robotics curriculum into other Advanced Science classes which he teaches at Vallivue Middle School to utilize the benefits of cross-curriculum teaching. When discussing the importance of robotics in intermediate education Boothby continued, "It teaches [the students] life skills like problem solving and group work… this sets them up for success later on in life."
In anticipation of the upcoming webinar about the future of robotics on May 27th at 12pm EST, PCS Edventures CEO, Robert Grover, commented, "Robotics is a natural enabler for STEM education; it is multidisciplinary in which students learn how to program, apply science and math in real-world scenarios, and it provides a collaborative, communication-rich environment for students working on challenges or cooperative projects. I love robots!" To learn more about how robotics products and curriculum engages students, expands their knowledge and prepares them to excel in future STEM careers, follow the link to the webinar listed below.
https://attendee.gotowebinar.com/register/3615938967799140866
About PCS Edventures!
PCS Edventures!.com, Inc. (PCS) designs and delivers educational products and services to the K-12 market that develop 21st century skills. PCS programs emphasize hands-on experiences in Science, Technology, Engineering, Arts, and Math (STEAM) and have been deployed at over 7,000 sites in all 50 United States and 17 foreign countries. Additional information on our STEAM products is available at http://www.edventures.com. PCS Edventures is headquartered in Boise, Idaho, and its common stock is listed on the OTC Pink platform under the symbol "PCSV."
Featured Product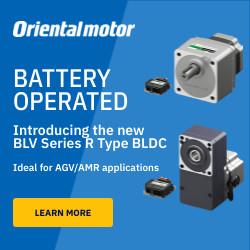 The BLV Series R Type brushless DC motor (BLDC motor) speed control system offers the design of motor and driver significantly reduced in size and weight, yet high-power, and contributes to the battery driven automation. The BLV Series R Type is compatible with the two interfaces of Modbus (RTU) and CANopen communication.