IMTS 2016 will be held Sept. 12-17 at Chicagos McCormick Place.
McLean, Va, May 13, 2015 -- A contest begins today to recruit members of the IMTS - The International Manufacturing Technology Show community to be part of the IMTS 2016 marketing campaign. IMTS 2016 will be held Sept. 12-17 at Chicagos McCormick Place.

Visitors, exhibitors, students, first-time attendees are all eligible to enter the contest and submit a story about what IMTS means to them. Everyone who submits a story will receive a "Greenies Package" of a green IMTS 2016 t-shirt, stickers and other items. Community members (and their teams) whose stories are used in the marketing campaign will receive complimentary admission to the IMTS 2016 trade show floor. The contest will be open until June 15, 2015.
"In our eyes, this community is what makes IMTS the greatest manufacturing event in the world," said Peter R. Eelman, Vice President - Exhibition and Communications, AMT - The Association For Manufacturing Technology. "We have been reaching out to the community since the 2006 Show to spotlight real people in our campaigns and for 2016 we want to make it even more interactive by opening up the opportunity for everyone to tell his or her IMTS story."
To learn more, visit http://www.imts.com/greenies.
Conversations within the IMTS community are continuing on social media:
@IMTS_2016 or #IMTS
Th IMTS LinkedIn Group
Facebook
IMTS - International Manufacturing Technology Show
The largest and longest running manufacturing technology trade show in the United States is held every other year at McCormick Place in Chicago, Ill. IMTS 2016 will run Sept. 12-17. IMTS is ranked among the largest trade shows in the world. Recognized as one of the worlds preeminent stages for introducing and selling manufacturing equipment and technology, IMTS attracts more than 114,000 visitors from every level of industry and more than 112 countries. IMTS is owned and managed by AMT - The Association For Manufacturing Technology. www.IMTS.com
AMT - The Association For Manufacturing Technology represents and promotes U.S.-based manufacturing technology and its members—those who design, build, sell, and service the continuously evolving technology that lies at the heart of manufacturing. Founded in 1902 and based in Virginia, the association specializes in providing targeted business assistance, extensive global support, and business intelligence systems and analysis. AMT is the voice that communicates the importance of policies and programs that encourage research and innovation, and the development of educational initiatives to create tomorrows Smartforce. AMT owns and manages IMTS — The International Manufacturing Technology Show, which is the premier manufacturing technology event in North America. www.AMTonline.org
Featured Product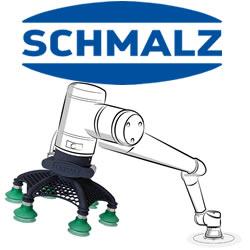 In order to interact with their environment and perform the tasks, lightweight robots, like all industrial robots, depend on tools - and in many cases these are vacuum grippers. These form the interface to the workpiece and are therefore a decisive part of the overall system. With their help, the robots can pick up, move, position, process, sort, stack and deposit a wide variety of goods and components. Vacuum gripping systems allow particularly gentle handling of workpieces, a compact and space-saving system design and gripping from above. Precisely because the object does not have to be gripped, the vacuum suction cupenables gapless positioning next to each other.