Winners created compelling short videos about the future of robots in society and will get the chance to discuss their ideas and see current cutting-edge robots in action
Five short videos prepared by U.S. high school students have been selected as winning entries in DARPAs Robots4Us video contest and will be featured at a June 7 invitational workshop on the future of robotics. DARPA launched the contest to stimulate student consideration of the potential societal implications of robotics.

The student winners—whose videos look ahead to a future when robots will play ever more important roles in fields ranging from agriculture to medicine to emergency response—will travel as DARPAs guests with a parent or guardian to the DARPA Robotics Challenge (DRC) Finals, to be held in Pomona, Calif., on June 5 and 6. There, more than 20 top robotics organizations from around the world will compete for $3.5 million in prizes as the state-of-the-art robots they created attempt to complete a course featuring numerous tasks currently performed by humans during humanitarian assistance and disaster response operations.
The next day, the student winners will participate in a day-long DARPA workshop, "From Better Robots to Better Futures." That event will feature lessons learned by the top three DRC teams, announcements of future international robotics challenges and activities, and visions offered by industry and government leaders about the ways in which robots may become integrated into society in the future. The student winners will participate in a panel discussion about their videos and offer their visions and perspectives on issues to consider. The workshop will be webcast on DARPAs YouTube channel, where the Robots4Us winning videos—approximately three minutes each—will debut that day.
"DARPA wanted to hear from the generation that will be the first to grow up and live with a wide range of robotics technologies. Their ideas about how robots might make a difference for society will help shape that future," said DARPA Director Arati Prabhakar. "We appreciate the thought these students put into their creations and were inspired by their visions about the influence robotics could have in our businesses, our homes and in the military."
The five winners of the Robots4Us contest are:
* Kristina Argao, Hagatna, Guam (Teammate: Riezzalyn Viray)
* Ben Chrepta, Rochester, Minn. (Teammate: Alden Giedraitis)
* Hector Cruz, Cedar City, Utah
* Shiloh Curtis, Santa Cruz, Calif.
* Atticus Jones, New York, N.Y. (Teammates: Kentaro Jones and Jigme Tinley)
A panel of judges with expertise in robotics technology, videography, science communication, and social and ethical issues evaluated the video submissions. The judges based their scores on how clearly each entrant communicated his or her vision of the future; creativity, thoughtfulness, originality and appeal; and technical quality.
To learn more about the Robots4Us contest and the DARPA Robotics Challenge, and to view the student-developed videos and watch the live webcast of the "Better Robots: Better Futures" workshop on June 7, visit www.theroboticschallenge.org. More detail about DARPAs goals for the Robots4Us contest is also available in this launch video at http://ow.ly/MWZgs.
Featured Product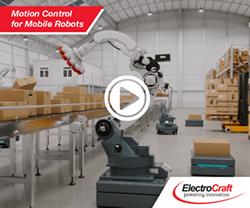 Featuring a high torque-density brushless DC motor with integrated single-stage planetary gearbox and wheel assembly. ElectroCraft's MPW52 integrates a 14-pole Brushless DC motor with a heavy-duty, single-stage planetary gearbox mounted inside the hub of an aluminum wheel with polyurethane tread. Designed for mobile platform traction systems with optional encoder feedback to support positioning capability and electromagnetic brake to hold position when power is removed. The MPW52 combines optimum performance with high-efficiency, quiet operation and long life.