In-House Solutions is pleased to announce that JBM, the world's top Mastercam dealer, has signed on as an official reseller of OCTOPUZ software in Japan.
RICHBORO, PA, — In-House Solutions is pleased to announce that JBM, the worlds top Mastercam dealer, has signed on as an official reseller of OCTOPUZ software in Japan.

JBM, a CAM Solution Company, provides CAD/CAM, Robotics, 3D Printer and CAI systems and software that support design and manufacturing processes in various industries, including precision machinery, factory simulation, prototyping, and measurement inspections. They also develop and market custom applications and provide extensive after-sales support. JBM believes that the OCTOPUZ will be powerful force to drive the Robotics business forward.

"We are thrilled to welcome JBM as an official OCTOPUZ reseller," said Edward House, CEO and president at In-House Solutions. "JBM has an impressive history as a Mastercam dealer and we believe that OCTOPUZ will be an excellent addition to their product lineup."

OCTOPUZ combines the offline programming of robots with manufacturing process simulation, providing mainstream, powerful and effective solutions not available in other robotics software packages. It allows for full customization, cuts down on path generation time and allows users to program and simulate multiple robots at the same time.

The versatility of this real world simulation and offline programming software is ideal for the most simple to the most complex jobs. OCTOPUZ provides all of the tools needed for any path-sensitive robotic application, supplying optimized external axis management and indicating reach limitations while avoiding singularity.

JBM has offices across Japan and in the United States. For more information about OCTOPUZ and reseller opportunities, visit www.OCTOPUZ.com , email info@octopuz.com or phone 1-800-529-5517 in North America, +49 (0) 9175 / 90833-0 worldwide.
________________________________________

About JBM
Founded in 1970, JBM Corporation (www.jbm.co.jp) is a CAM Solution Company that imports, develops and provides system and software targeting their 4 core business domains: CAD/CAM, Robotics, 3D Printer and CAI for design and manufacturing processes across a range of industries. The worlds largest Mastercam dealer, JBM optimized Mastercam to meet the needs of Japans machining industry and now offers a wide range of products to their customers designed to enhance manufacturing productivity. Their services also include full post-installation support and custom applications development.

About OCTOPUZ
OCTOPUZ (www.octopuz.com) is an intelligent offline robot programming and simulation software ideal for any path-sensitive application. Created by In-House Solutions, the company took a revolutionary approach by combining the offline programming of robots with a manufacturing process simulation. Today, OCTOPUZ provides a mainstream, versatile, powerful and effective solution for any robotic challenge.

About In-House Solutions
More than 27 years ago, In-House Solutions (www.inhousesolutions.com) began reselling and developing powerful software tools accessible to small- and medium-sized manufacturers. Today, the company provides CAD/CAM, DNC, PCMM and OCTOPUZ robotic programming software solutions to organizations of all sizes. The In-House Solutions team of experts, with offices in the U.S., Canada and Germany, are dedicated to selling, supporting, developing and implementing a full spectrum of software tools, particularly those specializing in NC programming and optimization, shop floor DNC communications and offline programming of industrial robots. In-House Solutions is the Canadian Mastercam distributor, and OCTOPUZ completes the companys software solutions for manufacturing.

Featured Product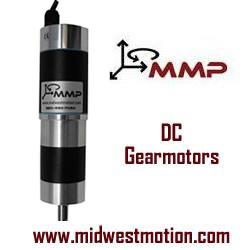 Midwest Motion Products, Inc. (MMP), is a well-established, healthy, & growing Family Owned Business, founded in 2001. MMP specializes in cost-effective standard DC Gearmotors, Motors, Controls, and ancillary equipment. Known world-wide for our "Lightning Fast" delivery capabilities, you can have a Standard Planetary or Right Angled DC Gearmotor BUILT and SHIPPED, often on the very same day you call. Offering Brushed and Brushless designs, with winding voltages ranging from 12 VDC to 120 VDC, we can deliver your "Robust & Reliable" samples within HOURS, instead of weeks, or even months.